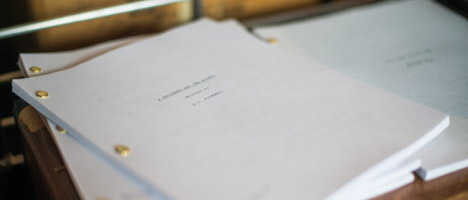 TV Writing: Core Elements (Jun 2020)
Registration is now closed for this session.
Learn the core elements of writing a TV pilot with an accomplished TV writer as your guide. In this live, online course, you will create an outline for an original pilot script and learn a set of tools to help you ask the important questions of every scene and character that will get you past "stuck" when writing future episodes. These eight weeks will cover developing characters, pilot structure, establishing tableau and tone, beat sheets and outlines. Sessions include presentation, discussion, and interactive exercises. The course concludes with a one-on-one mentoring session focused on your project.
The course will be held live in our virtual classroom. All sessions are recorded for registered participants who are unable to attend live.
DURATION: Eight weeks, June 16 - Aug 9
SCHEDULE: Tuesdays, 10am - 12pm PT

Extended first class session: Tuesday, June 16, 10am - 1pm PT
Extended last class session: Tuesday, July 28, 10am - 1pm PT
One-on-one mentoring sessions are held between Aug 3 - 9

APPLICATION DEADLINE: Tuesday, May 26 at 2pm PT
Applications are now closed.