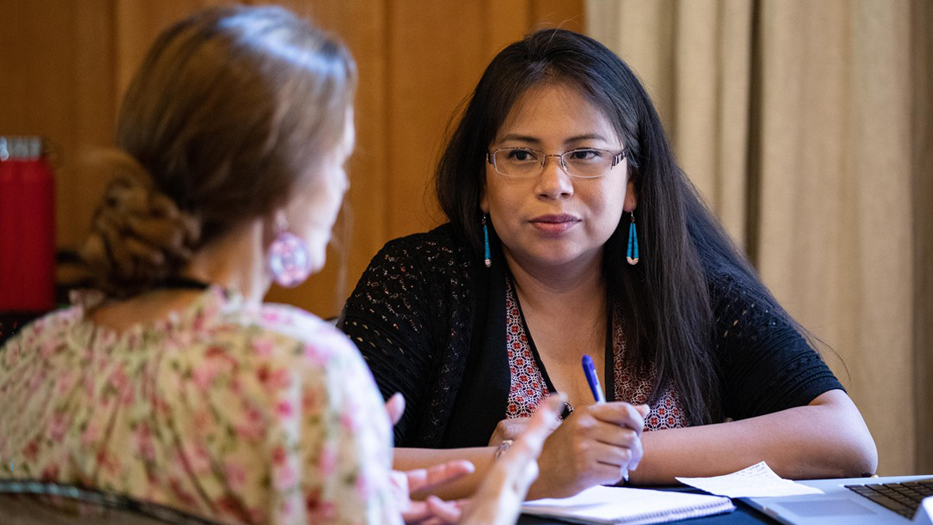 Challenge is closed
Winner
Bethany Armstrong Johnson
A young woman interviews for a job she desperately needs, but there's only one person standing in the way of her getting it: herself.
RUNNERS-UP
Interview by Jorge Pacheco
Why Me? by Matthew Yongue
---
It's the opportunity of a lifetime. The stakes are high as your main character is mere moments away from interviewing for their dream job. Your character is nervous, but excited. Landing this job will change their lives for the better and they've spent hours preparing for this big moment. After all, first impressions are everything. Your character is seated in an office when there's a knock on the door and the hiring manager enters. Your character's stomach drops, recognizing the person. Write the scene that picks up from this moment. Who is this person and what is their relationship to the main character? More importantly, what is their conflict? And how does the interview go? Your final written submission can be in any genre and should be no more than 10 pages.
SUBMISSION LIMITS
Your written work cannot exceed 10 pages.
Deadline to submit: April 30 , 2021 at 2PM PT.
CHALLENGE RULES
Our monthly challenges are open to everyone in the Sundance Collab community. One entry per person, per challenge. All submissions will be viewable to the community. All submissions will be given equal consideration and the final winner will be determined by the consensus of the designated Sundance judges.
Only those submissions that meet the criteria outlined in the submission guidelines can be selected as the winner.
The challenge closes on April 30, 2021 at 2PM PT.

If you have questions regarding the challenge, please email collab@sundance.org. Please do not contact members of the jury directly.
PRIZES
Winner will receive:
The winner will have their work featured on Sundance Collab
One-on-one mentorship session with a Sundance Advisor
Sundance Collab Annual Creator Membership (12 months) which includes:

Invitation to monthly Member-only Advisor Q&A Live webinar
Opportunity to receive feedback from a Sundance Advisor on work-in-progress you post to Share Your Work
Eligible to participate in online Writing Groups (coming soon)

Final Draft screenwriting software (12-month license)
Runners-up (two will be selected) - Sundance Collab Annual Creator Membership (12 months)

Submission Guidelines
One entry per person, per monthly challenge. The limits for monthly challenge submissions are the following: scripts – 10 page limit.
Technical Details
Scripts: PDF format only, please

Other: If your file format fits outside these formats, please contact us and we will see if we can accommodate it.
(Please do not use copyrighted material without permission as part of this monthly challenge.)
Juror
Laurel Parmet is a screenwriter and director based in New York, where she received her MFA in directing from NYU's Tisch School of the Arts. Her award-winning short films, including SPRING and KIRA BURNING, have played at SXSW, MoMA, Palm Springs, Outfest and more. She is a Sundance Screenwriters Intensive fellow with her feature THE STARLING GIRL and is developing a feature with Alexa Demie and Bron Studios.
more...
Juror
Imran Siddiquee is a writer, filmmaker, and speaker challenging systems of domination. Their writing on white supremacy, patriarchy, and popular media has been published by The Atlantic, Bitch Magazine, Buzzfeed, Literary Hub, Longreads, and others. They are the Communications Director for BlackStar Projects, home of the BlackStar Film Festival.
more...
Meedo

Juror
Los Angeles, California, United States
Meedo Taha is a Lebanese filmmaker and author whose work uses genre elements to explore the space between individual identity and collective memory. His short film THE INCIDENT received awards from the Phoenix Film Festival and Lebanese Film Festival, and the Directors Guild of America's Jury Award for Best Latino Student Film. His feature film project OTHER PEOPLE participated in Sundance Institute's Screenwriters Intensive, and won honorable mention at the Samuel Goldwyn Writing Awards and Francis Coppola's American Zoetrope Screenplay Competition. His feature film project A ROAD TO DAMASCUS is supported by Doha Film Institute and has recently been selected for Qumra.
more...
Ioana Uricaru

Juror
middlebury, Vermont, United States
Ioana was born and raised in Romania, where she lived through a communist dictatorship and a traumatic socio-economic transition before becoming an immigrant to the US. She is an alumna of the Cannes Cinefondation Residency, the Sundance Screenwriting and Directing labs, and the Torino Film Lab. Her work as a director has been part of the official selections at the Cannes, Berlin, Sundance, Tribeca, and AFI international film festivals.