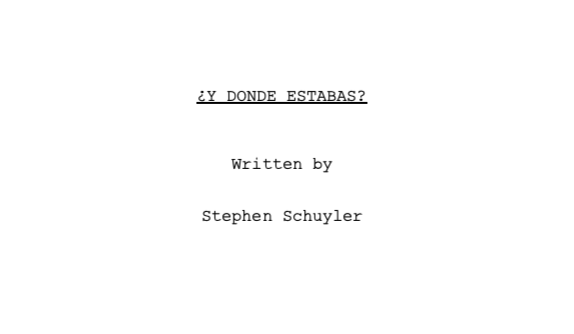 About this submission
This is a first revision on a short that I am hoping to film in the not too distant future. For me, there's a delicate balance between reality and cinematic narrative. While I need to convey enough information to continue to drive the story forward, I never want the piece to feel excessively plotted or expositional. What I'm really looking to find out here, beyond any feedback you feel like sharing with regards to the work, which areas of the story feel too much like a movie, which run too long, or which could be expanded.
Thank you in advance for taking the time to read my work, and I look forward to hearing what everyone has to say.
Creator
Baltimore, MD, USA
Stephen Schuyler grew up in Baltimore City. In 2020, he won the Short Script category of the Austin Film Festival Screenwriting Competition. He was also named as a 2020 Saul Zaentz Innovation Fund fellow through Johns Hopkins and was awarded a production grant as part of the fellowship. His short films have received grants from the Hollywood Foreign Press Association, Panavision, and the National Hispanic Foundation for the Arts, among others. His films have screened at the Baltimore Museum of Art (BMA), Austin Film Festival, and Sarasota Film Festival as well as other festivals and venues.