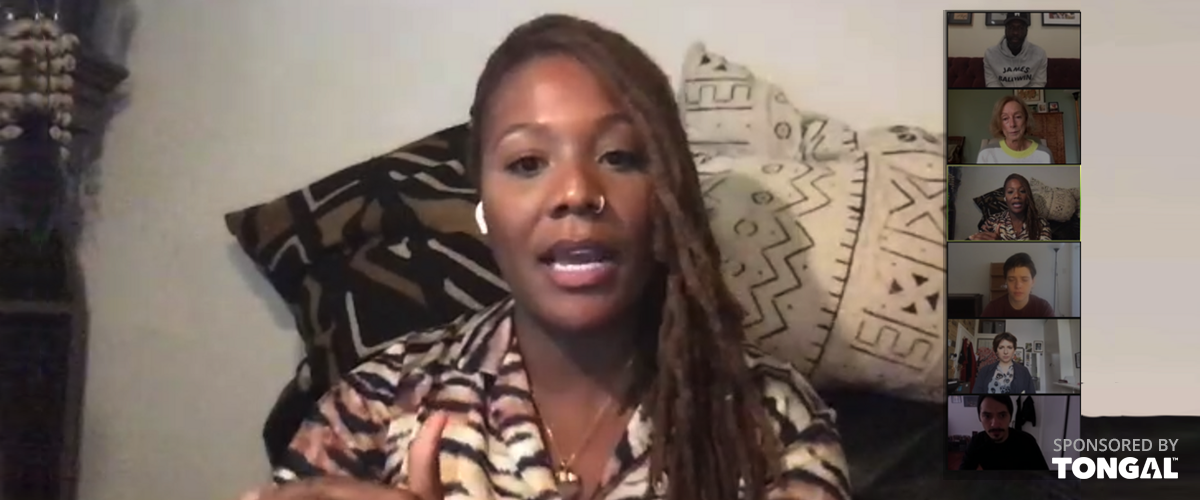 Challenge is closed
Winner
Narcolepsy, transgendered spouse, electro-shock therapy. That can not all happen to one person. It happened to me and I want to use what I learned to make your life better.
RUNNERS-UP
Kill Ana: A Graphic Memoir on Mental Health and Relationships by Charlotte Bailey
MURO by Emilio Seri
---
As creators, having a great idea is only the first step. It's equally important to be able to communicate that idea effectively so potential collaborators, clients, or backers understand and buy into your vision. This challenge asks creators to create a 1-2 minute pitch video for a short story, short film or docu-short that quickly conveys the premise, tone, characters, creative execution, and/or why they're uniquely positioned to tell this story. From a simple talking-head video, to utilizing voiceover or sharing a rough proof-of-concept, there are many ways to approach a pitch video. We're open to them all, just make us want to buy into whatever you're selling!
About Tongal:
Tongal is the ultimate platform for content creation that connects the best and brightest creative talent to opportunities to develop content for top networks, studios, and brands. Built to facilitate remote work and collaboration, Tongal powers the entire creative process end to end to bring undiscovered, great ideas to life through branded content, original content and advertising.
SUBMISSION LIMITS
Your video cannot exceed 2 minutes.
Deadline to submit: December 16, 2020 at 2PM PT.
CHALLENGE RULES
Our monthly challenges are open to everyone in the Sundance Co//ab community. One entry per person, per challenge. All submissions will be viewable to the community. All submissions will be given equal consideration and the final winner will be determined by the consensus of the designated Sundance judges.
Only those submissions that meet the criteria outlined in the submission guidelines can be selected as the winner.
The challenge closes on December 16, 2020 at 2PM PT.

If you have questions regarding the challenge, please email collab@sundance.org. Please do not contact members of the jury directly.
PRIZES
Winner will receive:
$250 Creator Grant from Tongal
One digital festival pass to access the 2021 Sundance Film Festival
The winner will have their work featured on Sundance Co//ab
One-on-one mentorship session with a Sundance Advisor
Sundance Co//ab Annual Creator Membership (12 months) which includes:

Invitation to monthly Member-only Advisor Q&A Live webinar
Opportunity to receive feedback from a Sundance Advisor on work-in-progress you post to Share Your Work
Eligible to participate in online Writing Groups (coming soon)

Final Draft screenwriting software (12-month license)
Runners-up (two will be selected) - Sundance Co//ab Annual Creator Membership (12 months)

Sponsored by:
Submission Guidelines
One entry per person, per monthly challenge. The limits for monthly challenge submissions are the following: videos– 2 minute limit.
Technical Details

Videos: Accepted video file formats: AVI , FLV, MOV, MP4 or MPEG-2. Note: If you choose to upload a .MOV file make sure that it is not using the Apple ProRes compression. We do not support reading Apple ProRes files or raw camera formats like ARRI and RED at this time.
Other: If your file format fits outside of the video, pdf, audio file category, please contact us and we will see if we can accommodate it.
(Please do not use copyrighted material without permission as part of this monthly challenge.)
Anthony Onah

Juror
Anthony Onah is a Nigerian American filmmaker who grew up in the Philippines, England, Nigeria, Togo, and the U.S. His debut feature, THE PRICE, premiered at the 2017 SXSW Film Festival in the Narrative Feature Competition, and was released in theaters in November 2017. He was named to FILMMAKER MAGAZINE's list of "25 New Faces of Independent Film" in 2015, and is an alum of the Sundance Institute Catalyst Forum.
more...
Rafael Agustín

Juror
Rafael Agustín is a writer on the award-winning, CW show, JANE THE VIRGIN. He is a 2016 Sundance Fellow for his TV family comedy, ILLEGAL, based on his life as a former undocumented student. Agustín co-created and co-starred in the national touring, award-winning autobiographical comedy, N*GGER WET*CK CH*NK, which received acclaim from the LA Times, New York Times, Denver Post, and won awards for its advancement of social justice in the arts. Rafael Agustín currently serves as Executive Director of the Latino Film Institute, where he oversees both the Youth Cinema Project and LALIFF (Los Angeles Latino International Film Festival).
more...