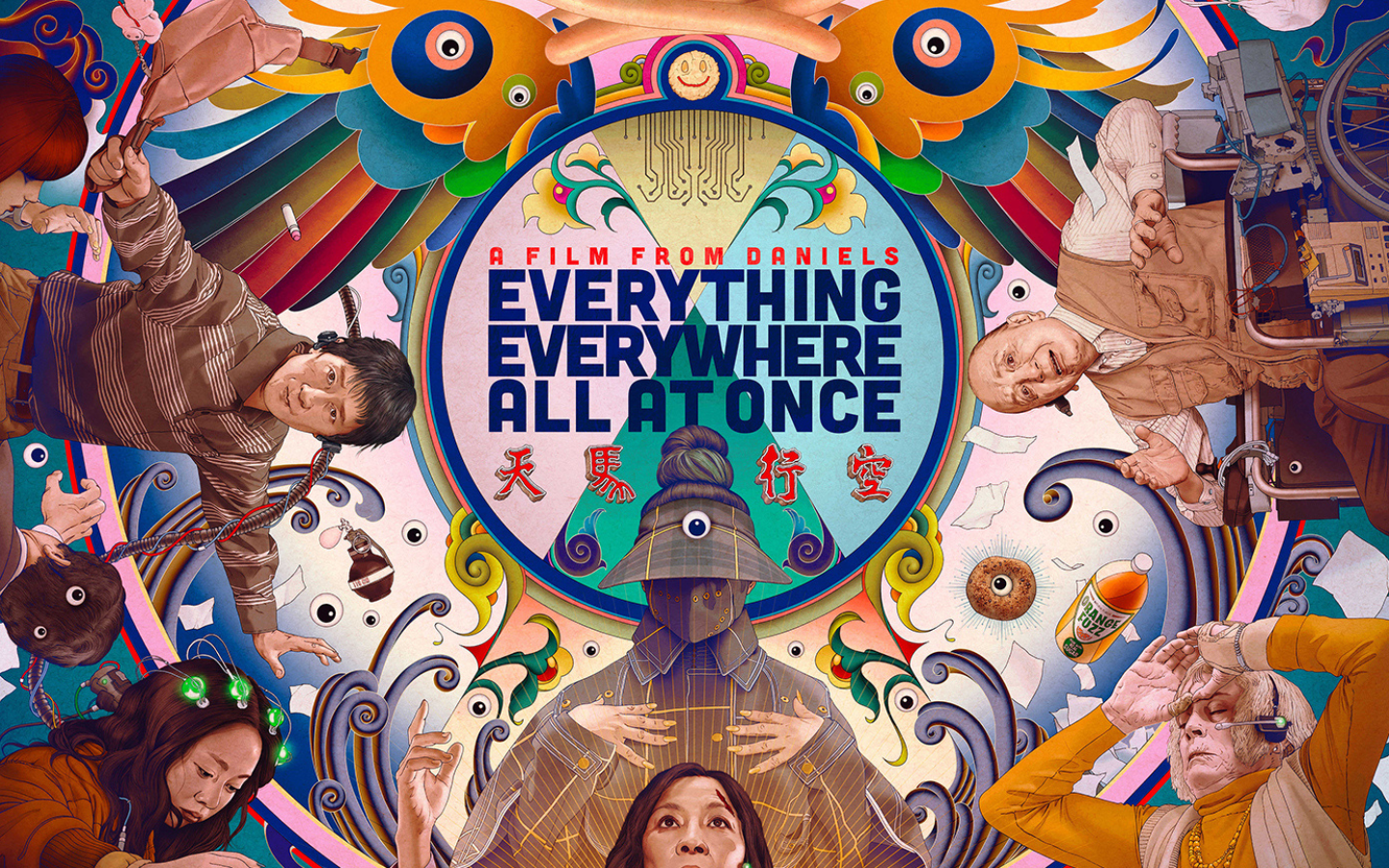 Master Classes are in-depth, interactive learning experiences focused on craft and career-building and led by renowned industry experts. Topics include fiction and documentary filmmaking, TV writing and production, and navigating and succeeding in the entertainment industry.
Music and sound design are two of the most powerful tools for filmmakers to tell their stories. In this Master Class centered around The Daniels' independent hit, Everything Everywhere All At Once, we explore how these elements work together to communicate tone and emotion and build a unique and fantastical world.
Join Glenn Kiser, Director of the Dolby Institute, and accomplished composer, Peter Golub, who will moderate a conversation with Everything Everywhere All At Once directors Daniel Kwan and Daniel Scheinert, re-recording mixer and supervising sound editor, Brent Kiser, sound designer and sound effects editor, Andrew Twite, and Ryan Lott, Rafiq Bhatia and Ian Chang, the three members of the band, Son Lux, who composed the original, spellbinding score. In this live, interactive session, they'll discuss the process by which composers and sound designers can build the world with the filmmaker and be an essential part of shaping a film's story.
Topics covered include:
How sound and music work together
Finding your collaborators
Providing direction and references to collaborators
How filmmakers use sound design and music to establish tone
Perspective and intention in sound design
Rhythm in sound
Sense memory and building your soundscape
Creating a unique fight scene
Directing the audience's attention with sound
Tying a character's perspective to sound design
Transitions in sound design
Spacialization and working with Dolby Atmos
Collaborating with composers in pre-production
Approaching the score as a band
Music as connective tissue
Blending textures and melodies in the score
Collaborating with other artists for the soundtrack
Utilizing test screenings
The power of playfulness and discovery
The value of the theatrical release
Resources:

Download the Recommended Resources
Presented in Conjunction with

---
Past classes have included Academy Award-winning director Roger Ross Williams on Documentary Storytelling, Finding Dory's Victoria Strouse on Comedy Writing, Emmy-nominated director Lesli Linka Glatter on Blocking a Scene, The Walking Dead's Glen Mazzara on TV Writing, and more.

Sundance Collab Master Classes are open and free of charge to all members as live events. Sessions will be recorded and available in our video library within 24 hours to all members for 48 hours after posting. After that, on-demand access to the recording is available only to Creator+ and Course Pass members. Sign up today to get a free 30-day trial Creator+ Membership.
If you have a disability and require accommodation in order to fully participate in this event, please complete this form, contact us at (435) 776-7790 or email us at accessibility@sundance.org to discuss your specific needs. Every effort will be made to accommodate advance requests; requests made within 5 days of the event may not be guaranteed.
Peter Golub

Moderator
Peter Golub is the composer of numerous works for film, the concert hall, theatre and dance. His film scores include: FROZEN RIVER (directed by Courtney Hunt and nominated for 2 Academy Awards); THE LARAMIE PROJECT (for HBO); THE GREAT DEBATERS (directed by Denzel Washington and co-composed with James Newton Howard); WORDPLAY; COUNTDOWN TO ZERO; SOUND OF A DREAM; and SONGS MY BROTHER TAUGHT ME (dir. by Chloe Zhao).
more...
Moderator
Glenn Kiser is the Director of the Dolby Institute, Dolby's initiative to bring education and inspiration to filmmakers and content creators about the creative use of sound and picture in storytelling. Previously, Kiser was the VP & General Manager of Lucasfilm's Skywalker Sound, where he oversaw sound work on film projects such as AVATAR, THE INCREDIBLES, the STAR WARS prequels, THE CURIOUS CASE OF BENJAMIN BUTTON, THE PIRATES OF THE CARIBBEAN and HARRY POTTER films.
more...