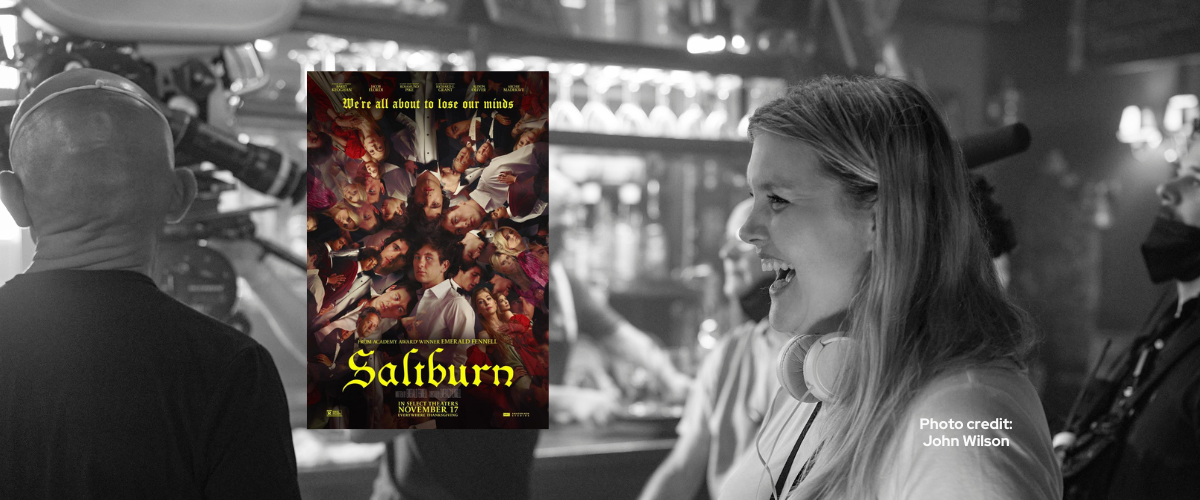 Spotlight Events feature conversations with high-profile film and television industry professionals who share helpful advice and insights on their career experiences and creative processes.
Writer, director and producer Emerald Fennell's highly anticipated comedy-drama thriller, Saltburn, premiered at the 50th Telluride Film Festival. The film follows student Oliver Quick (Barry Keoghan), struggling to find his place at Oxford University, and finds himself drawn into the world of the charming and aristocratic Felix Catton (Jacob Elordi), who invites him to Saltburn, his eccentric family's sprawling estate, for a summer never to be forgotten.
Fennell's feature directorial and screenplay debut, Promising Young Woman, which she also produced, was a breakout success out of the 2020 Sundance Film Festival. She was later nominated for three Academy Awards®, including Best Picture and Best Director, and won for Best Original Screenplay.
Her debut short, Careful How You Go, which she wrote and directed, also premiered at Sundance in 2019.
For this Spotlight Event, Emerald will discuss her creative process in making Saltburn and her success in sustaining a career as a prolific multi-hyphenate in film, television and theatre.
If you have a disability and require accommodation in order to fully participate in this event, please complete this form, contact us at (435) 776-7790 or email us at accessibility@sundance.org to discuss your specific needs. Every effort will be made to accommodate advance requests; requests made within 5 days of the event may not be guaranteed.

Live event registration for Sundance Collab Spotlight events is free of charge. A recording of this event will be posted on this page within 24 hours. All members who registered can watch the recording for 48 hours after it is posted. After that, on-demand access to this recording can be purchased for $5.
Panelist
Photo credit: John Wilson Emerald Fennell is an Academy Award®, Golden Globe®, Emmy®, DGA, PGA and WGA nominated writer, director, actress and author who has established herself as a prolific multihyphenate in film, television and theatre.
more...