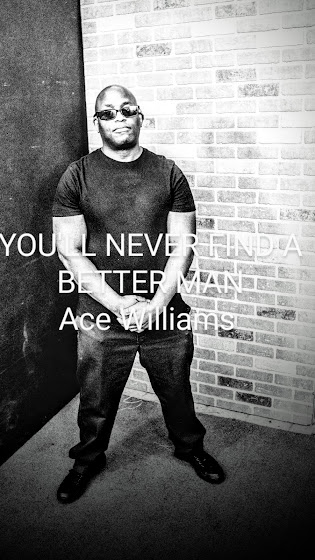 About this submission
YOU'LL NEVER FIND A BETTER MAN©
https://www.reverbnation.com/acewilliams/song/31640790-youll-never-find-better-man-retro
(Verse One)
I'm looking for an answer, it's much too long.
Are you gonna be with me? Where you belong.
Don't wanna play this game. Is it him or me?
I can make you happier, so endlessly.
(Bridge)
I'll give you the world and so much to live for.
You'll never want for anything; I'll give you sweet romance.
Here's the key, now open up the door. Open it right now 'cause there ain't no second chance.
(Chorus)
You'll never find a better man, better than me.
Don't settle for the lesser man, baby can't you see.
(Verse Two)
Trust what I say, he's no good for you.
You got everything to gain and nothing to lose.
He can't please you like I can. Open your eyes.
Take my hand before time passes by.
(Bridge)
I've been your fool for much too long.
Put the cards on the table and give me the word.
Trust my words and you won't go wrong.
Believe these things that you heard...
(Chorus)
(Instrumental Section)

(Breakdown until the end)
*Words and Music Written By Ace Williams
*All Rights Reserved
(BMI Affiliate)
Creator
Ace Williams is an artist who is credited as a singer/songwriter/composer/storywriter. The Los Angeles Native has been interested in music since the age of 11. At 15, he began his musical endeavors as a rapper, creating home-made rap tapes for friends and peers, composing rap lyrics to instrumental records that were already on the market. As a musician, Ace prefers to expand musically and venture towards a multi-genre of music i.e. soul, rock, hip-hip, pop and all genres of alternative music. Inspired by the likes of musical luminaries such as Stevie Wonder, Seal, Lenny Kravitz, Tears for Fears, Kanye West, Ace prefers to be limitless in music so that he won't make a full stop someday and will be able to continue in his creativity. Constantly looking to broaden his musical horizons, Ace's objective is not to be confined to any specific category of music, but to make a strong in impact in all music categories and markets. Ace was recognized by The 12th Annual, Billboard World Song Contest for honorable mention of his R&B composition "Mama's Man", which depicts child abuse, and was personally, congratulated by Billboard's president, Jim Halsey. On the production end, Ace directs and oversees all of his musical works, producing, composing, and performing all of his own vocal work as a co-arranger and music director. A world of musical genres, a multi-genre of sounds laced with lyrics destined to make you muse and pause…and think about the cause, creating music from his soul and spirit, seeking the opportunity to produce a body of working for times to come.
more...