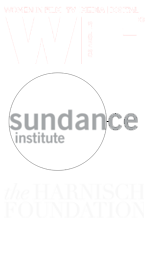 Co-presented by Women In Film Los Angeles and Sundance Institute
The global COVID pandemic has caused immense shifts across the film industry. With productions halted, film festivals postponed or canceled, and movie theaters closed for the foreseeable future, what does this mean for independent filmmakers seeking to finance their next project?
Join us on April 29 as industry leaders tackle this question in a free webinar. The event will consist of two parts - the first hour focusing on fiction features, and the second on documentary features. Each part will engage a panel of industry leaders with expertise in the changing world of film finance. They will unpack their insights on the short and long-term ramifications of the pandemic and offer critical guidance for artists seeking to pivot their financing strategies accordingly.
Confirmed Panelists include:
FICTION
Heather Rae, Illuminative
Maren Olson, CAA
Tracy van Slyke, Pop Culture Collaborative
Julie Rapaport, Amazon Studios
DOCUMENTARY
Carrie Lozano, IDA
Cara Mertes, Ford Foundation
Kevin Iwashina, Endeavor Content
Ruth Ann Harnisch, The Harnisch Foundation
Moderator
Los Angeles, CA, USA
Karim Ahmad is the Director of Outreach & Inclusion at the Sundance Institute, where he oversees emerging artist outreach initiatives and cross-discipline creative / professional development activations and partnerships. He also leads inclusion strategy across the organization, and advocacy for marginalized artists in the field. Previously, he was Senior Strategist for ITVS, where he oversaw numerous film funds and headed digital content production and creative development for episodic and immersive media. He was the Creator and Senior Producer of Indie Lens Storycast, an Independent Lens branded YouTube channel on PBS' Digital Studios MCN, and the Creator and Showrunner of the iconic sci-fi series, FUTURESTATES . Karim is also an independent cross-platform writer and producer and can be found on Twitter as @thatkarimahmad.
more...