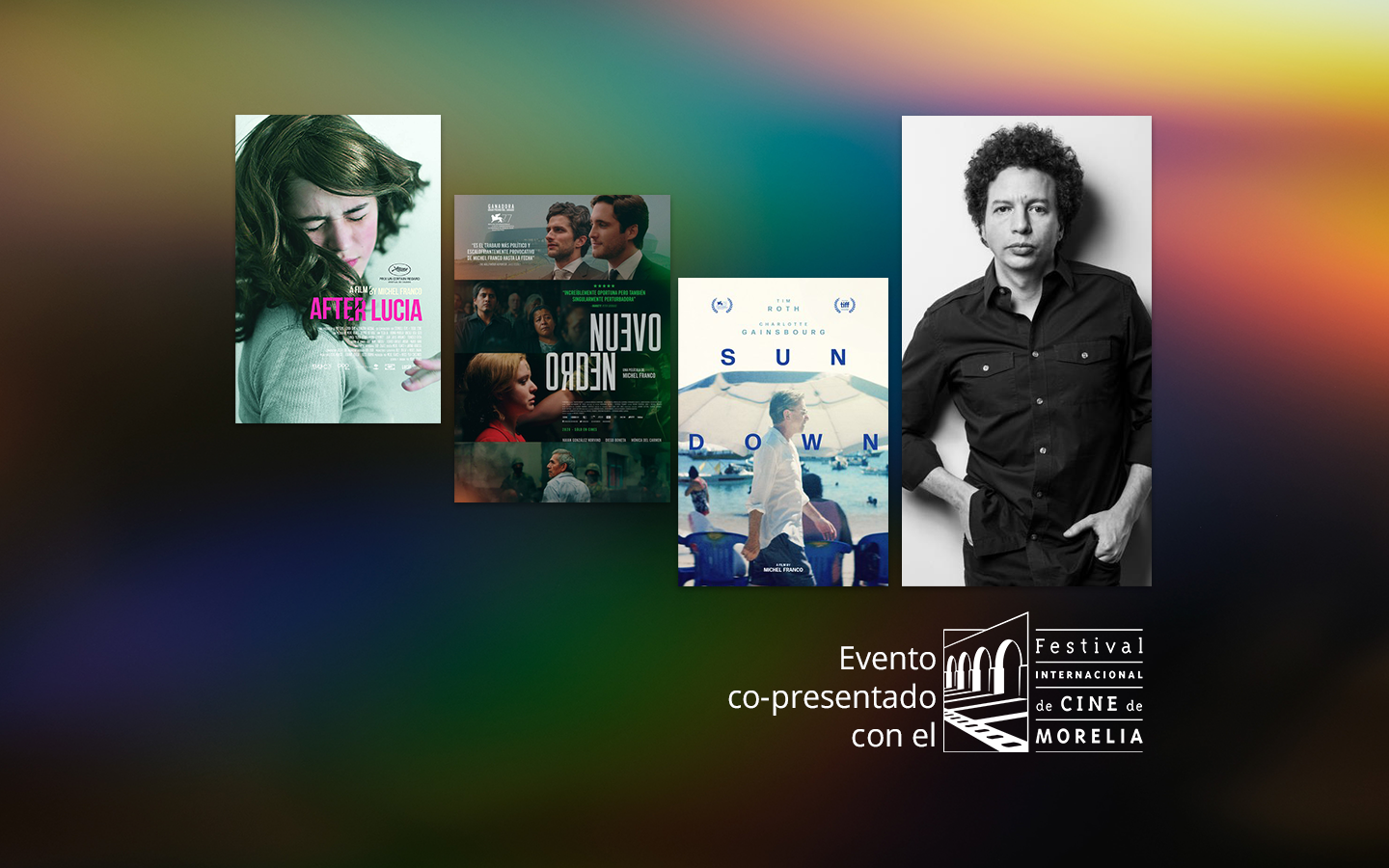 Michel Franco y el cine de la disrupción
Sundance Collab se une con el Festival Internacional de Cine de Morelia para un nuevo evento virtual de nuestra serie en español. No te pierdas esta conversación con el cineasta mexicano Michel Franco (Después de Lucía, Nuevo Orden, Sundown), conducida por la crítica mexicana de cine Fernanda Solórzano. Esta conversación nos permitirá aprender más sobre la mirada de uno de los cineastas más polémicos del cine latinoamericano contemporáneo. El suyo es un cine que incomoda y que provoca. ¿Cuáles son las claves del trabajo de Michel Franco, director mexicano laureado en Cannes y en Venecia?
La transmisión de este seminario web podrá seguirse también desde la página de Facebook del Festival Internacional de Cine de Morelia.
Los eventos en línea de Sundance Collab son grabados y estarán disponibles para todos los invitados registrados 24 horas después del evento en vivo.
¿QUÉ ES EL FESTIVAL INTERNACIONAL DE CINE DE MORELIA?
El Festival Internacional de Cine de Morelia cumple 19 años de existencia dedicado a apoyar a los cineastas mexicanos, formar nuevas audiencias para el cine, y a difundir la cultura cinematográfica de México. Es un evento internacional de gran prestigio que se lleva a cabo en la hermosa ciudad de Morelia, México, y que reúne cada año a una nutrida comunidad de cineastas y creadores audiovisuales presentando su trabajo ante el público.
La 19ª edición del FICM se llevará a cabo del 27 de octubre al 1 de noviembre de 2021 en Morelia, Michoacán y a través de sedes virtuales.
ACCESIBILIDAD
Si tienes alguna discapacidad y requieren de algún tipo de asistencia para participar en este evento, por favor completa el siguiente formulario, contáctanos al teléfono (435) 776-7900, o mándanos un correo electrónico a la dirección accessibility@sundance.org para que podamos asistirte. Haremos todo lo posible para asistir a todas las solicitudes que se hagan con anticipación. Las solicitudes que se hagan con menos de 5 días antes del evento no serán garantizadas.
---
Michel Franco and the Cinema of Disruption
A new online event in our Spanish-language series, Sundance Collab joins the Morelia International Film Festival in hosting a conversation with filmmaker Michel Franco (After Lucia, New Order, Sundown), moderated by renowned Mexican film critic Fernanda Solórzano. This conversation will allow us to learn more about the gaze of one of the most controversial filmmakers in contemporary Latin American cinema. His is a cinema that disrupts and provokes. What are the keys to the work of Michel Franco, Mexican director awarded at Cannes and Venice?
A simulcast transmission of this conversation can also be followed from the Facebook page of the Morelia International Film Festival.
All Sundance Collab online events are recorded and will be available for all registrants after the live event. Please allow up to 24 hours after the live event for the recording to be posted.
ABOUT THE MORELIA INTERNATIONAL FILM FESTIVAL
The Morelia International Film Festival celebrates 19 years of existence dedicated to supporting Mexican filmmakers, building new audiences for cinema, and spreading the film culture of Mexico. It is an international event of great prestige that takes place in the beautiful city of Morelia, Mexico, and every year brings together a large community of filmmakers and audiovisual creators presenting their work to the public.
The 19th edition of the Morelia International Film Festival will take place from October 27 to November 1, 2021 in Morelia, Michoacán and through virtual venues.
ACCESSIBILITY
If you have a disability and require accommodation in order to fully participate in this event, please complete this form, contact us at (435) 776-7900 or email us at accessibility@sundance.org to discuss your specific needs. Every effort will be made to accommodate advance requests; requests made within 5 days of the event may not be guaranteed.
---
Presentado con el / Presented with the: Fernanda Solórzano

Panelist
Fernanda Solórzano is the chief film critic for Letras Libres magazine where she writes since 2001. Before that she was chief film critic for the Sábado supplement of Unosmásuno newspaper; Cambio journal and the Confabulario supplement of El Universal newspaper. Her film articles have appeared in most Mexican print outlets as well as foreign publications, including the supplement "Atlas du cinéma" of Cahiers du Cinéma, the Spanish Cuadernos Caimán and the British Sight & Sound. Alternately, she has hosted tv programs on movie analysis, including Filmoteca 40, Confabulario, Encuadre and Plano abierto. She has been a past jury member in national and international festivals. She's a current member of the International Federation of Film Critics (FIPRESCI) and also a member of the Morelia Film Festival Official Selection committee.
more...
Michel Franco

Panelist
Michel Franco was born in Mexico City in 1979 and has put Mexican cinema in the global spotlight. The films he has written, directed and produced include Chronic (Best Screenplay Award at the 2015 Cannes Film Festival), Las Hijas de Abril (Jury Prize, in Certain Regard at the 2017 Cannes Film Festival), and Después de Lucía (Top Prize, in Certain Regard at the 2012 Cannes Film Festival).
more...