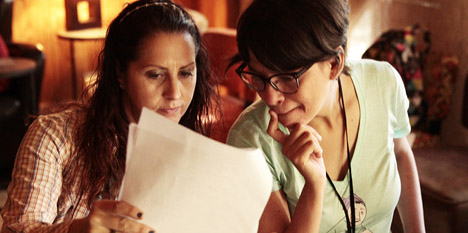 Film Producing: Core Elements
Registration is open until January 27, 2021
Course applications are now being accepted. APPLICATION DEADLINE: Wednesday, January 27 at 2pm PT
Learn the fundamental concepts of creative producing for independent fiction films—from development to financing to budgeting and more—with accomplished producers as your guides. In this introductory, live online course, you will become familiar with the basic tools and techniques used by producers to manage projects from development through distribution and you will create pitch materials to communicate your project's vision to funders and key collaborators.
In interactive class sessions, the instructor and advisors will define key producing terms, demonstrate contracts, budgets, and other materials used in film production, and lead you in interactive exercises group discussions. Weekly homework, reviewed by your course advisor, is designed to help you build the pieces of your final pitch materials and deepen your understanding of fundamental producing concepts. The course concludes with a one-on-one mentoring session with your advisor focused on your project.
By the end of the course, you will:
understand your role in creative development and identify your core producing philosophy.
learn how to assemble a strong team and key crew.
practice verbal pitches of your project.
understand the process of optioning material and hiring and collaborating with screenwriters.
learn industry standard deal terms and the fundamentals of deal negotiation.
identify financing available to independent filmmakers and begin to develop your financing strategy.
learn how to break down a scene and schedule your days on set.
identify key steps of the marketing and distribution process.
consider festival and distribution options for your project.
This course is ideal for:
first-time feature producers who would like to understand the core concepts of creative producing and how to move their project forward.
producers who have made a short film(s), but are moving toward features and looking for a more formal educational environment to enhance their skills, toolkit and creative community to develop confidence.
non-fiction filmmakers looking to transition into producing narrative film.
Course enrollment is approximately 50 participants per session, with a participant to advisor ratio of twelve to one. Please come prepared with a short or feature film script that you plan to produce.


COURSE DETAILS
The course will be held live in our virtual classroom. All sessions are recorded for registered participants who are unable to attend live.
DURATION: Eight weeks, February 24 - April 18
SCHEDULE: Wednesdays, 9am - 11am PT

Extended first class session: Wednesday, February 24, 9am - 12pm PT
Extended third class session: Wednesday, March 10, 9am - 12pm PT
Extended last class session: Wednesday, April 7, 9am - 12pm PT
One-on-one mentoring sessions are held between Apr 12 - Apr 18

APPLICATION DEADLINE: Wednesday, January 27 at 2pm PT
TO APPLY
Click the yellow "Apply Now" button on the top right of the page.
We also offer a limited number of need-based scholarships for participants who would otherwise be unable to attend. To apply for a scholarship: FIRST submit your course application through the yellow button above THEN submit your scholarship application through the link below. Both the course application AND the scholarship application must be submitted before the application deadline. Applications for a scholarship without a course application will not be considered. Apply for a scholarship to this course.
Instructor
Summer Shelton was the recipient of the 2018 Independent Spirit Piaget Producer's Award. She produced "Maine" which premiered at the 2018 Tribeca Film Festival and "Keep the Change," the 2017 Tribeca Film Festival Best Narrative Feature. She was Executive Producer of "People Places Things" which premiered in US Dramatic Competition at the 2015 Sundance Film Festival. Her other films include: "People Places Things, "Little Accidents," "Goodbye to All That" and "Adult World."
more...