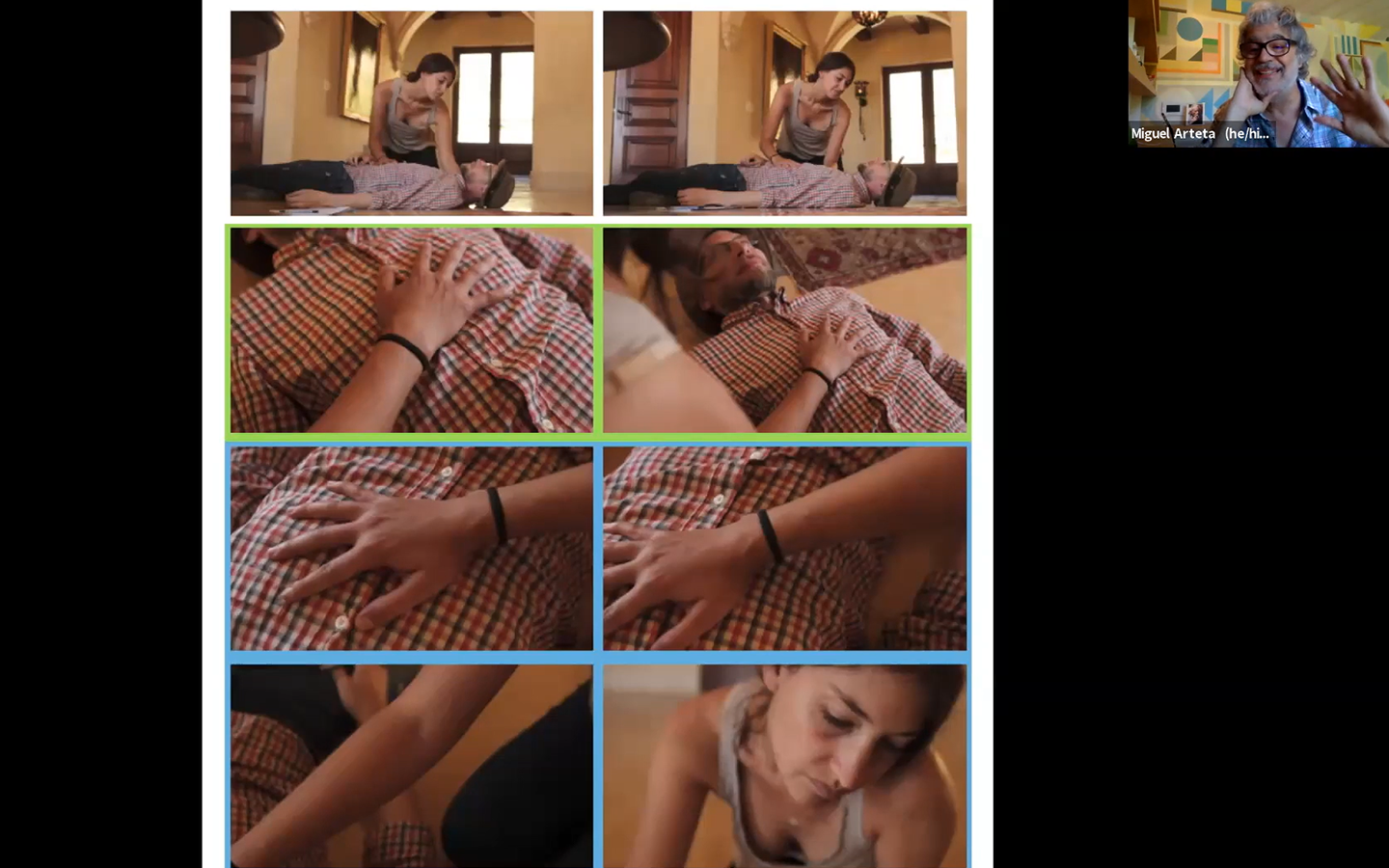 Go behind the scenes to learn from Sundance Advisors in our Conversations from the Labs series. This collection of videos will deepen your understanding of all the creative disciplines that are supported through our Labs including Feature Film Directing and Writing, TV Writing, Emerging/Interdisciplinary Media, Documentary, Producing and Film Music.
In this video, three directors—Miguel Arteta, Walter Salles and Randa Haines—share their approaches to breaking down a scene and prepping for shoots. Arteta discusses creating a key image for a climactic scene and shares his process of reverse engineering the shooting plan to build to that moment in a scene from his film Beatriz At Dinner. Salles, sharing a sequence from Central Station, discusses his instinctive approach to shooting. Instead of storyboarding, he begins with a loose breakdown of shots and relies on specific lens choices and the actors' performances to guide how he captures the action. Next, Haines shares a clip from Children of a Lesser God, describing how the unique needs of the story and the actors dictated every element of the design of the space and the shooting plan. Finally, the directors discuss their approaches to rehearsal and their process for developing a visual language, advising filmmakers to remain open to change and ready to reframe unanticipated obstacles as opportunities that are integral to the filmmaking process.
Other conversations in this ongoing series include those with editors Michelle Tesoro, Joi McMillon, Teri Shropshire & Dylan Tichenor, cinematographers Stephen Goldblatt, Robert Elswit, Brad Young, Charlotte Bruus Christensen, writer/director/producer Kasi Lemmons, writer/director Keith Gordon, writer/director Ira Sachs, writer/director Karyn Kusama and more.
Miguel Arteta

Director
Miguel Arteta is a Puerto Rican filmmaker living in Los Angeles. He studied film at the Wesleyan Film Program with Jeanine Basinger. His first three features, STAR MAPS (1997), CHUCK & BUCK (2000), and THE GOOD GIRL (2002), all premiered and found distribution at the Sundance Film Festival. He then made YOUTH IN REVOLT (2009) with Michael Cera, CEDAR RAPIDS (2011) with Ed Helms and John C. Reilly, and BEATRIZ AT DINNER (2017) written by Mike White and starring Salma Hayek, John Lithgow, and Connie Britton.
more...
Randa Haines

Director / Producer
Randa Haines began her career as an actress, studying with Lee Strasberg. Her first feature, CHILDREN OF A LESSER GOD, was nominated for three Golden Globes, a BAFTA, and five Academy Awards. The film received a Silver Bear at the Berlin Film Festival, a Directors Guild nomination for Haines, and launched Marlee Matlin's career with an Academy Award for Best Performance by a Leading Actress.
more...