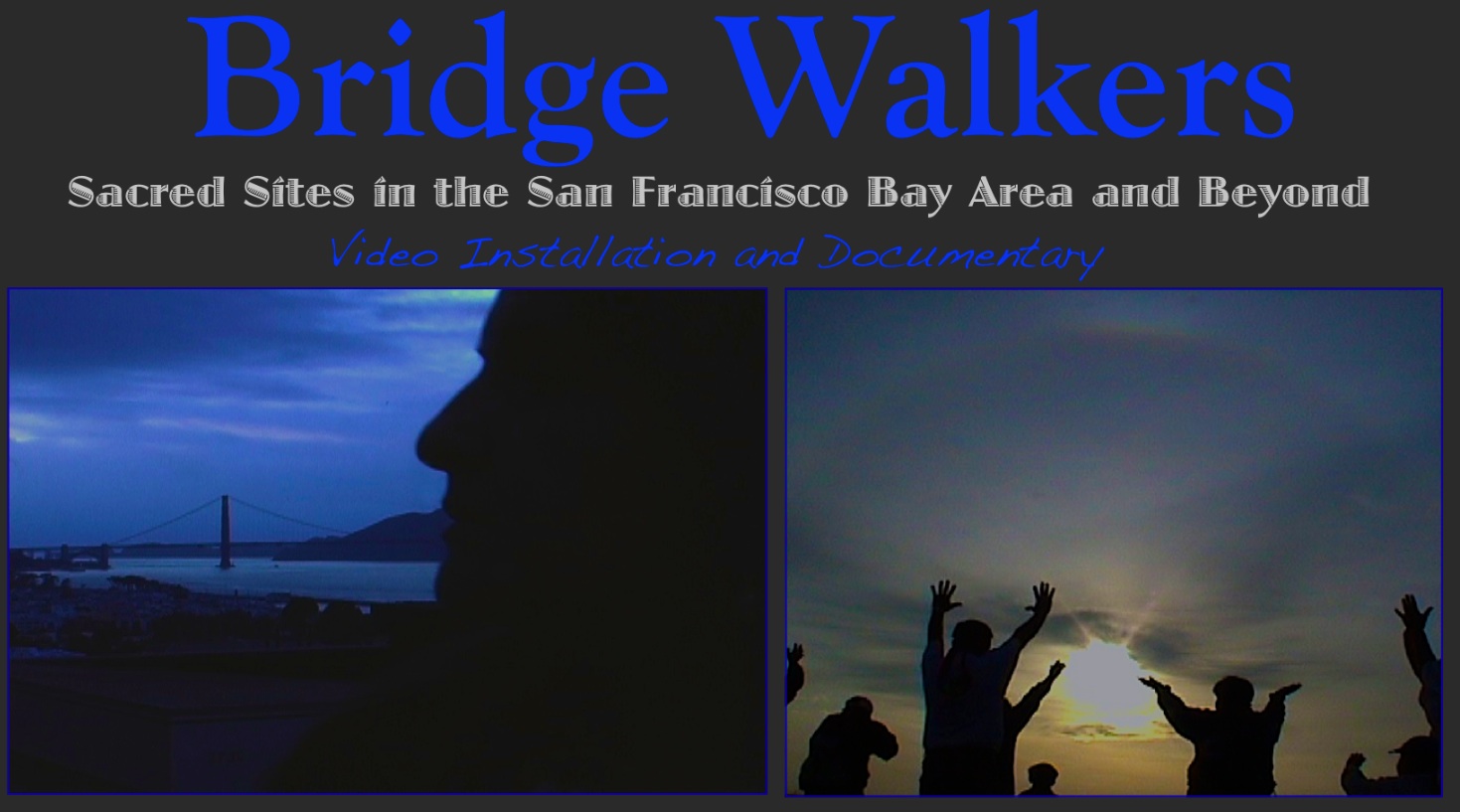 About this submission
The Bridge Walkers documentary was first developed as the centerpiece of a three- screen art installation that was first presented at the de Young Museum in 2012, springing from a commissioned project. Granted the first time use of the de Young Tower, the audience was high above and able to see straight to the Pacific Ocean straight over tree tops, and for a brief moment, consider the landscape of the Ohlone before contact. The two other video screens on display played visual poetry with slight sound blending with the short documentary. Screen One travels Mexico's sacred sites, exploring the remaining physical structures that inform national and international visitors of the millenary cultures of Mexico, places where education is passed down even today. Screen Two travels San Francisco, places that were once Sacred Shellmounds used by the Ramaytush and other Ohlone and California native people, also thousands of years old, and what stands on the sites now. Shellmounds in San Francisco were destroyed almost completely, giving rise to wonder what my family thought living in San Francisco in 1860 thought when the Shellmound where Ghirideli square now stands was destroyed. I visit these sites, using similar body language as in the Mexico video to demonstrate visually the absence of these sacred centers today in San Francisco and Bay Area. By invitation for an exhibit, I began editing Bridge Walkers in 2019 to be shown as a stand-alone, the version of which I have uploaded. The main people interviewed in the film have consented to the making of the film, and I keep them abreast of public showings, and because I remain involved otherwise in community. I made a short film in 2008 'Witness the Healing' in the process of trying to uncover my own family connections to the Ohlone community and our own lineage. The full 20-year process that spans from the East Coast to California and Mexico is currently being explored in new photo, book and script form. While working and living in Mexico after a Fulbright Fellowship, I made the following: short film 'From the Same Family: An Intimate Look at Globalization', and full length documentary 'Transition' about the first democratically-elected president in Mexico in more than 70 years. I wanted to contribute back to the community that had embraced me and helped me recover information about my family I never would have found in books, and many of the same people we discovered, were related through marriages and we only recently uncovered new information. Sacred Site preservation is an important mission for the Ohlone community so I did my best to make a film that would bring attention and awareness to the issue to promote understanding and positive action to protect the ancestors and sacred sites.
San Francisco, CA, USA
Starting out as a photojournalist and documentary news producer, I transitioned to national public documentary television. For the last ten years, recovering from a major injury to my right arm, I shifted to creating short docs, video installations, and exhibiting in Northern California, Texas and Mexico, starting in 1988 with the award-winning Alphabet People, up through 2019, currently exhibiting photography and a series of coastal wood and shell sculptures at two local museums. I am fine-tuning a short documentary for exhibit at a local museum, have shot footage for a documentary on coastal public access for creating a funding trailer, and have gathered research/ writing to complete a script and directing the film. I am grateful to be part of this community, and feel committed to do all I can towards becoming a better filmmaker, storyteller and artist.