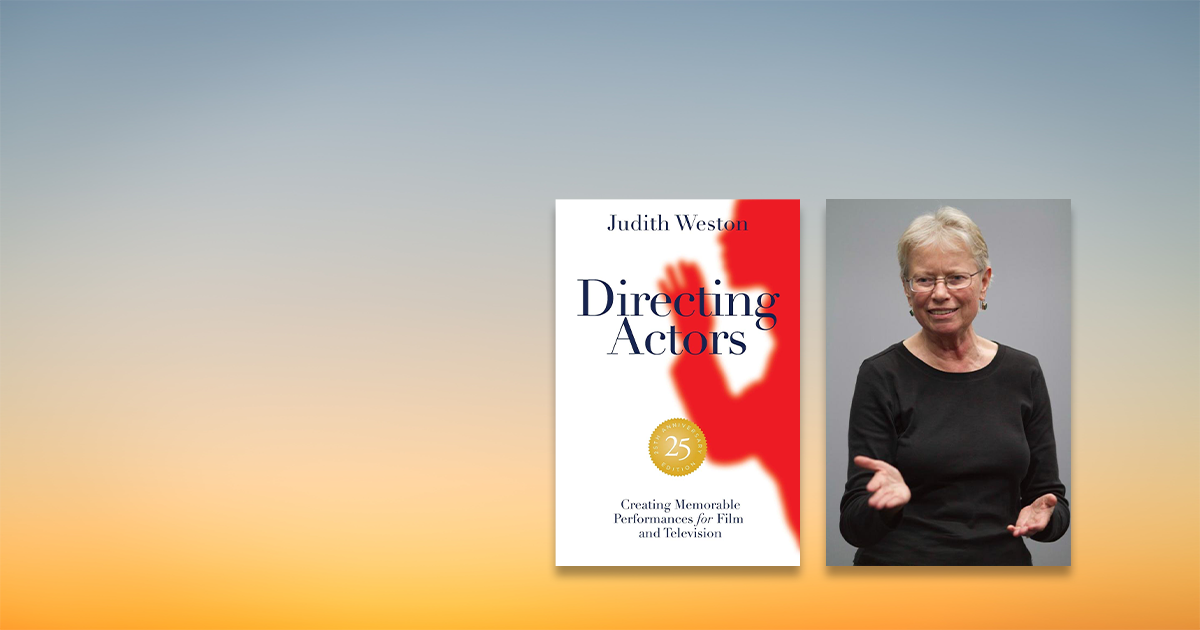 Most filmmakers know that a productive collaboration with actors will define the environment on set and the success of the project on screen. And yet, directors have many questions about gaining the actors' trust. Join us in this live three-hour Master Class with internationally-known directing and acting coach Judith Weston, as we go deep into key strategies of building a meaningful connection with your actors, the steps to break down a scene, how to prepare for casting sessions, and the best practices for rehearsing. Judith will offer live, interactive demonstrations of her process. This event is ideal for all directors, writer-directors, and actors alike.
Judith is the author of Directing Actors 25th Anniversary Edition. Her students include Alejandro G. Iñárritu, (The Revenant, Birdman) Ava DuVernay, (When They See Us, Selma), Taika Waititi (Jojo Rabbit, Thor: Ragnarok), Steve McQueen, (12 Years a Slave, Small Axe), Hanelle Culpepper (Star Trek Picard, The Flash), Christina Choe (Nancy, Queen Sugar, Handmaid's Tale).
Topics presented will include:
Script Analysis
Casting
Rehearsing Over Zoom
The pitfalls of "result direction"
How to prepare your actors before starting to shoot
Resources:
Download the list of resources from Judith Weston and Sundance Collab
Scene from Face to Face
Scene from Dog Day Afternoon
All Sundance Collab webinars are recorded and will be available for all registrants after the live event. Please allow up to 24 hours after the live event for the recording to be posted.
If you have a disability and require accommodation in order to fully participate in this event, please complete this form, contact us at (435) 776-7900 or email us at accessibility@sundance.org to discuss your specific needs. Every effort will be made to accommodate advance requests; requests made within 5 days of the event may not be guaranteed.
Judith Weston

Judith Weston has been a sought-after coach and teacher for 35 years, to filmmakers and actors around the world. She has written two books. Her beloved classic Directing Actors, a bestseller ever since it was first published in 1996, has now been released in a 25th Anniversary Edition, expanded, revised and updated. Meanwhile, a lightly revised and updated version of the original edition is available as an Audiobook, narrated by Judith. Her second book, The Film Director's Intuition, is still a favorite for many readers. These books bring hope and focus to directors, actors, screenwriters, and other film industry professionals. They are required reading at film studios, on the sets of television series, and at most film schools.
more...