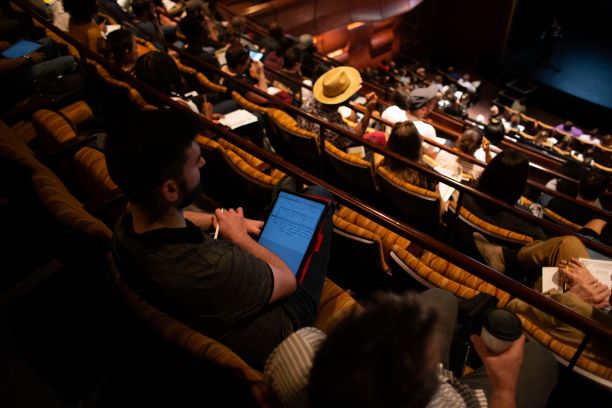 Virtual Documentary Filmmaking Session supported by the John S. and James L. Knight Foundation
Live Online Learning
Originally slated to take place in Charlotte, NC, we're going virtual. Welcome to all! We are still celebrating North Carolina by dedicating time for resource gathering and community-building for artists in the southern United States.
How do documentary filmmakers nurture their artistic voice and cultivate successful creative collaborations?
Join Sundance Institute's Documentary Film team for part one of the day (1:00 p.m. EST), where we'll discuss building your body of work as a documentary filmmaker with Cecilia Aldarondo, director of MEMORIES OF A PENITENT HEART, and developing productive, healthy relationships with your creative team with Jacqueline Olive, Don Bernier, and Bob Edwards from the documentary ALWAYS IN SEASON.
We'll begin part two of the session at 3:30 p.m. with a focus on opportunities for nonfiction creators living in the U.S. South. Artist support organizations from across the region will discuss creative and financial resources available to nonfiction filmmakers, confronting the unique challenges of working in the South.
Organizations represented will include: Austin Film Society, FilmGate Miami, House of Pentacles, Indie Grits, Indie Memphis, New Orleans Film Society, Oolite Arts, Sidewalk Film Center + Cinema, Southern Circuit by South Arts, Southern Documentary Fund, Working Films
Stick around for a virtual social hour at 4:30 p.m. to meet fellow nonfiction creators.
Topics will include:
How to build a sustainable foundation in nonfiction filmmaking

How to develop productive and healthy relationships with your team

Unique challenges faced by documentary filmmakers in the U.S. South

Resources available to Southern documentary filmmakers
Download the Zoom desktop client for an optimal experience. (Please note: Live event capacity is capped at 1000 attendees. A recording of the event will be posted to this page within 24 hours of the event ending for anyone unable to attend live)
Scroll down to submit your questions or comments in advance of the session under "JOIN THE DISCUSSION" below.
To learn more about Sundance Institute's Documentary Film Program click here.

THANK YOU TO OUR SUPPORTERS
This program is presented by Sundance Institute and is made possible by generous support from the John S. and James L. Knight Foundation.

The John S.and James L. Knight Foundation is a national foundation with strong local roots. We invest in journalism, in the arts, and in the success of cities where brothers John S. and James L. Knight once published newspapers. Our goal is to foster informed and engaged communities, which we believe are essential for a healthy democracy. For more, visit kf.org

Learn more about the Knight Fellows Project and other upcoming events at Sundance.org/Knight.
We thank the Charlotte-based organizations we collaborated with: Charlotte 48 Hour Film Project, Charlotte Black Film Festival, The Charlotte Unconventional Film School, and Cine Casual.