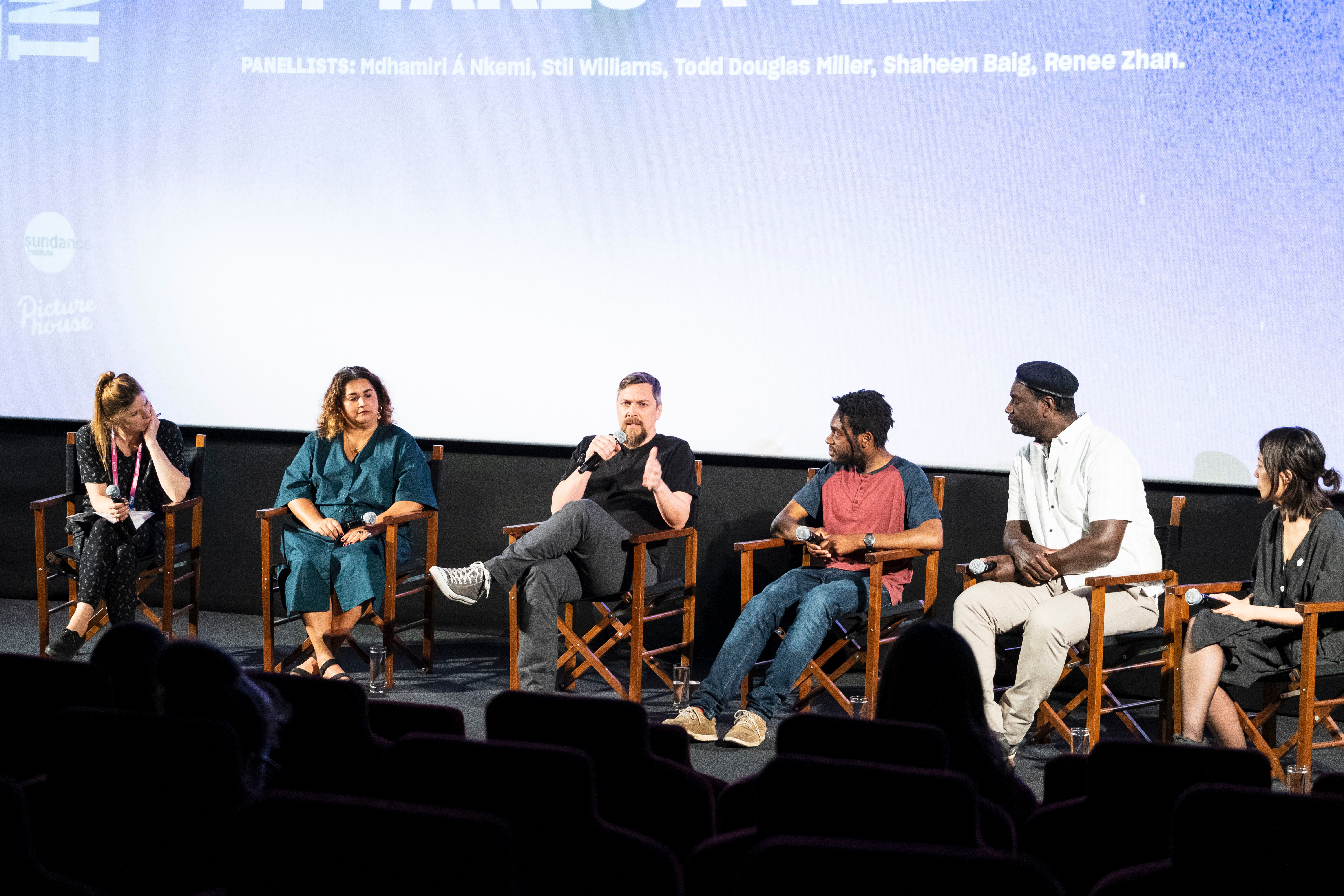 Celebrating the lead-up to Sundance Film Festival: London taking place July 29th-August 1st 2021, we gather a group of participating filmmakers from the line-up to discuss their films and explore creative processes, challenges, directing and storytelling choices, and the way their projects evolved during an unprecedented year. Featuring Nikole Beckwith (Together Together), Manuel Crosby (First Date), Sushmit Ghosh (Writing With Fire), Rintu Thomas (Writing With Fire), and Carlson Young (Blazing World). Live captioning will be available for this panel.
If you have a disability and require accommodation in order to fully participate in this event, please complete this form, contact us at (435) 776-7900 or email us at accessibility@sundance.org to discuss your specific needs. Every effort will be made to accommodate advance requests; requests made within 5 days of the event may not be guaranteed.
Carlson Young

Director, Writer, Actor
Los Angeles, CA.
Carlson Young is a director and writer, originally from Fort Worth, Texas. She attended the University of Southern California, where she studied creative writing. Carlson's short film and directorial debut, The Blazing World, premiered at the 2018 Sundance Film Festival. She is also an actor, appearing in Scream: The TV Series, Key and Peele, and Emily in Paris.
more...
Rintu Thomas

Director / Producer
Rintu Thomas is an Academy nominated director-producer from India and the co-founder of Black Ticket Films - a media creative agency invested in the power of non fiction storytelling. Her work is supported by the Sundance Institute, Chicken & Egg Pictures, IDFA, SFF Film Fund, Doc Society and Bertha Foundation, among others. A 2021 IDA Courage Under Fire Award honoree, Rintu is also an IDA Logan Elevate grantee and a Sundance Fellow. Her debut feature documentary, Writing With Fire, is India's first feature documentary to be nominated for an Academy Award. Writing With Fire premiered at Sundance '21 where it won two awards (Audience Award and Special Jury Award: Impact for Change). Described by The Washington Post as "The most inspiring journalism movie – maybe ever", Writing With Fire has played at over 150 festivals and won over 30 international awards. The film is also an NYT Film Critics Pick, IDA and PGA Awards nominee. Over the last 13 years, Rintu's films have been used as advocacy tools for social impact, included in the curriculum of universities and exhibited globally – becoming catalysts for new conversations. She lives between New Delhi and a quaint mountain-town in North India.
more...
Sushmit Ghosh

Director / Cinematographer
Sushmit Ghosh is an award-winning director-cinematographer from India whose work has been supported by the Sundance Institute, Tribeca Institute, Doc Society, SFF Film Fund, IDFA, The Bertha Foundation, Sorfond and the Finnish Film Foundation, among others. In 2009, he co-founded Black Ticket Films, a production company invested in the power of storytelling. With a strong eye on social justice stories, Black Ticket Films' award-winning slate of films are being used as advocacy, impact and education tools by institutions across the world.
more...
Ana Souza

Ana Souza is the Manager of the Programming department and a Programmer on the features team for the Sundance Film Festival, focusing on US and international fiction films across sections. Among her work there she covers Sundance Film Festival: London, an annual collaboration with Picturehouse that showcases a selection of festival films in the UK following the January festival. Aside from Sundance, she has worked with several festivals over the years, including Sun Valley, Outfest, the LA Film Festival, and AFI FEST.