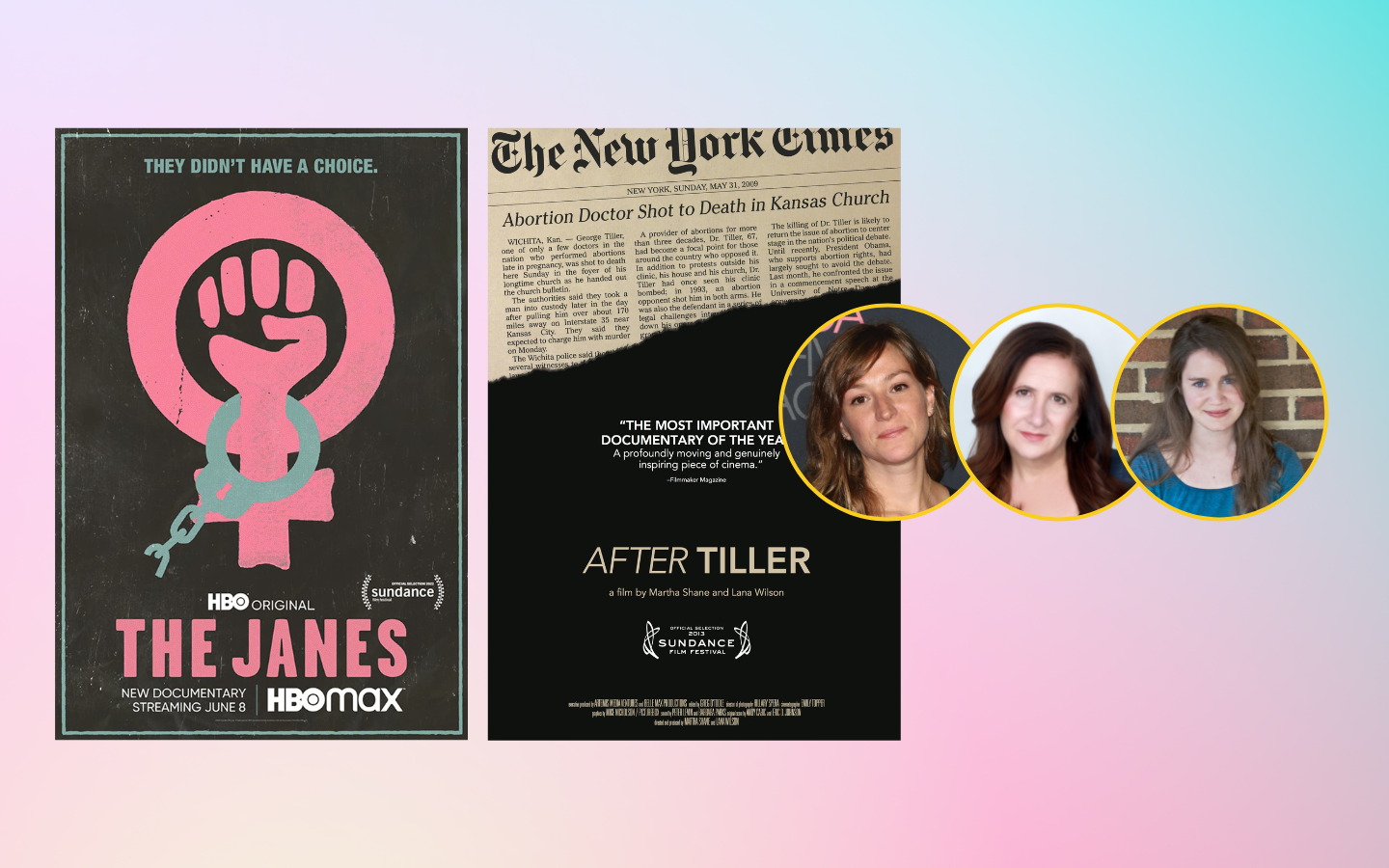 Spotlight Events feature conversations with high-profile film and television industry professionals who share helpful advice and insightful anecdotes on their career experiences and creative processes. Check out some of our inspiring chats with Patty Jenkins, Ava DuVernay, Gina Prince-Bythewood, Brit Marling, Jason Blum and more.

We believe in the power of storytelling to make change. With the reversal of Roe vs Wade, the conversation surrounding Reproductive Justice has once again become elevated. Please join us for this spotlight conversation with the award winning documentary filmmakers Emma Pildes and Tia Lessin (The Janes) and Martha Shane (After Tiller). This vital session on Collab will focus on how they approached the development, shooting, post and marketing of these culture shifting films.


This online event will be recorded and available in our video library for all members after the live event. Please allow up to 24 hours after the live event for the recording to be posted.
If you have a disability and require accommodation in order to fully participate in this event, please complete this form, contact us at (435) 776-7790 or email us at accessibility@sundance.org to discuss your specific needs. Every effort will be made to accommodate advance requests; requests made within 5 days of the event may not be guaranteed.
Carrie Lozano

Moderator
Carrie Lozano is the Director of the Sundance Institute's Documentary Film Program and Artist Programs, and is an award winning documentary filmmaker and journalist. Prior to Sundance, she was director of the International Documentary Association's Enterprise Documentary and Pare Lorentz funds, where she supported more than 60 diverse films and filmmakers at the intersection of documentary and journalism, including WELCOME TO CHECHNYA, A THOUSAND CUTS, and THROUGH THE NIGHT.
more...
Panelist
Emmy-nominated filmmaker Emma Pildes has an extensive background in, and boundless love for, non-fiction storytelling. "The Janes" is Emma's directorial debut. As one of Pentimento Productions' principal producers, Emma produced "Spielberg", "Jane Fonda in Five Acts", and "Very Ralph" -- all for HBO Documentary Films. "Spielberg" had its world premiere at the New York Film Festival in 2017 and was later nominated for an Emmy. "Jane Fonda in Five Acts" had its world premiere at Sundance Film Festival in 2018 and its international premiere at Cannes Film Festival. The film was nominated for the 2019 Emmys. At PBS' American Masters, Emma helped to produce the Emmy and Peabody-award winning "LennoNYC," Emmy-award winning "Inventing David Geffen," as well as "American Masters: Billie Jean King." Born and raised in Chicago, Emma graduated from Sarah Lawrence College and is based in Brooklyn, NY. She is a member of the Directors Guild of America.
more...
Panelist
Martha Shane is an Emmy Award-winning director and producer of documentaries. Her films -- AFTER TILLER, NARROWSBURG, THE EMOJI STORY, FROM THIS DAY FORWARD, and BI THE WAY -- have screened at festivals including Sundance, SXSW, Tribeca, Full Frame, Hot Docs, and the Camden International Film Festival. They have been released by Oscilloscope Laboratories and Utopia Distribution and have screened on Netflix and as part of PBS's flagship POV series, as well as on many other platforms. Martha also directed two episodes, THE ALABAMA EXIT and ANNA DELVEY TAKES MANHATTAN, of the new HBO Max show GENERATION HUSTLE. Named one of DOC NYC's "40 under 40" in 2019, Martha is also an editor and story consultant whose credits include NOT GOING QUIETLY (Greenwich Entertainment, 2021), 11/8/16 (The Orchard, Netflix, 2017), ACORN AND THE FIRESTORM (Independent Lens, 2018), and the Emmy-nominated PERSONAL STATEMENT (PBS's America ReFramed, 2018). Martha studied film at Wesleyan University, where she graduated in 2005.
Panelist
Tia Lessin was nominated for an Academy Award for her work as a director and producer of the Hurricane Katrina survival story "Trouble the Water," winner of the 2008 Sundance Grand Jury Prize and the Gotham Independent Film Award. She directed and produced "Citizen Koch," about the rise of the Tea Party in the Midwest, which also premiered at Sundance and was shortlisted for an Oscar in 2014. "The Janes" is the third feature-length documentary that Tia has directed. In 2001, Tia received the Sidney Hillman Award for Broadcast Journalism for directing the documentary short "Behind the Labels" about the labor trafficking of garment workers on U.S. Saipan. Tia was on the producing teams of Palme D'Or winning "Fahrenheit 9/11," Academy Award winning "Bowling for Columbine,"and the Grammy-winning "No Direction Home: Bob Dylan." She produced the film "Where to Invade Next" and executive produced "Fahrenheit 11/9." Her work on the 1998/99 television series "The Awful Truth" earned her two Emmy nominations, one arrest, and a lifetime ban from Disneyland. Tia is a past fellow of the Open Society Institute and the Sundance Institute and has served as an advisor to IFP, Sundance and Creative Capital artists. Her filmmaking has been supported by The Bertha Foundation, Chicken & Egg, Cinereach, Creative Capital, The Ford Foundation's JustFilms, Fork Films, the International Documentary Association's Pare Lorentz Fund, the MacArthur Foundation, New York State Council on the Arts, Rockefeller Brothers Fund and the Sundance Institute DocumentaryFilmProgram. She is a member of the Academy of Motion Picture Arts & Sciences and the Directors Guild of America.
more...