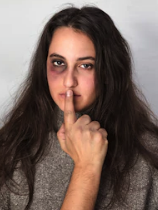 About this submission
Rich Port is a sample chapter of a Young Adult Fiction Novel that I am working on based on my true coming of age. As a filmmaker(director/writer) I have been working to adapt each of my chapters into short films. I am currently in post production on another of these story adaptations.
Creator
Elaine Del Valle is a Brownsville, Brooklyn bred Puerto Rican filmmaker. Del Valle's second short film, Me 3.769, was licensed by the HBO network. Her subsequent film, Princess Cut, was featured by the National Association of Latino Independent Producers (NALIP) Director's showcase and won the HBO Latinx short film award. Princess Cut is currently airing on the HBOmax platform. Del Valle's work has received positive reviews from the New York Times, New York Post, NBC News, Journal News, and New York Daily News. Miami New Times named her a "Filmmaker to Watch," and Ad Age called her short documentary, Tagged, a "compelling exploration." While Del Valle loves expressing emotion through her camera, she's most proud of being referred to as an "actor's director." Her many years of acting training under the tutelage of Wynn Handman at New York City's Carnegie Hall brought her off-Broadway with her autobiographical one-woman show, Brownsville Bred. Del Valle is currently a WarnerMedia 150 artist, and Sundance Institute supported director expressing her Brownsville Bred true coming-of-age story onto the screen. In 2020, Del Valle's original drama pilot, The System, landed a development deal with CBS. Written by Del Valle, in The System, a compassionate yet jaded social worker navigates the same broken New York City system she grew up in as she advocates to resolve issues for every family she encounters while struggling to fix her own. ​ Del Valle is a guest lecturer at schools and Universities on authentic storytelling across artistic mediums. She devotes much of her spare time to young filmmaker programs in underserved communities. Her hope is to use her lens to influence and represent all those who don't often have a voice. She wants every young person in underserved communities, and especially girls to know that their perspectives have the power to enlighten. ​
more...