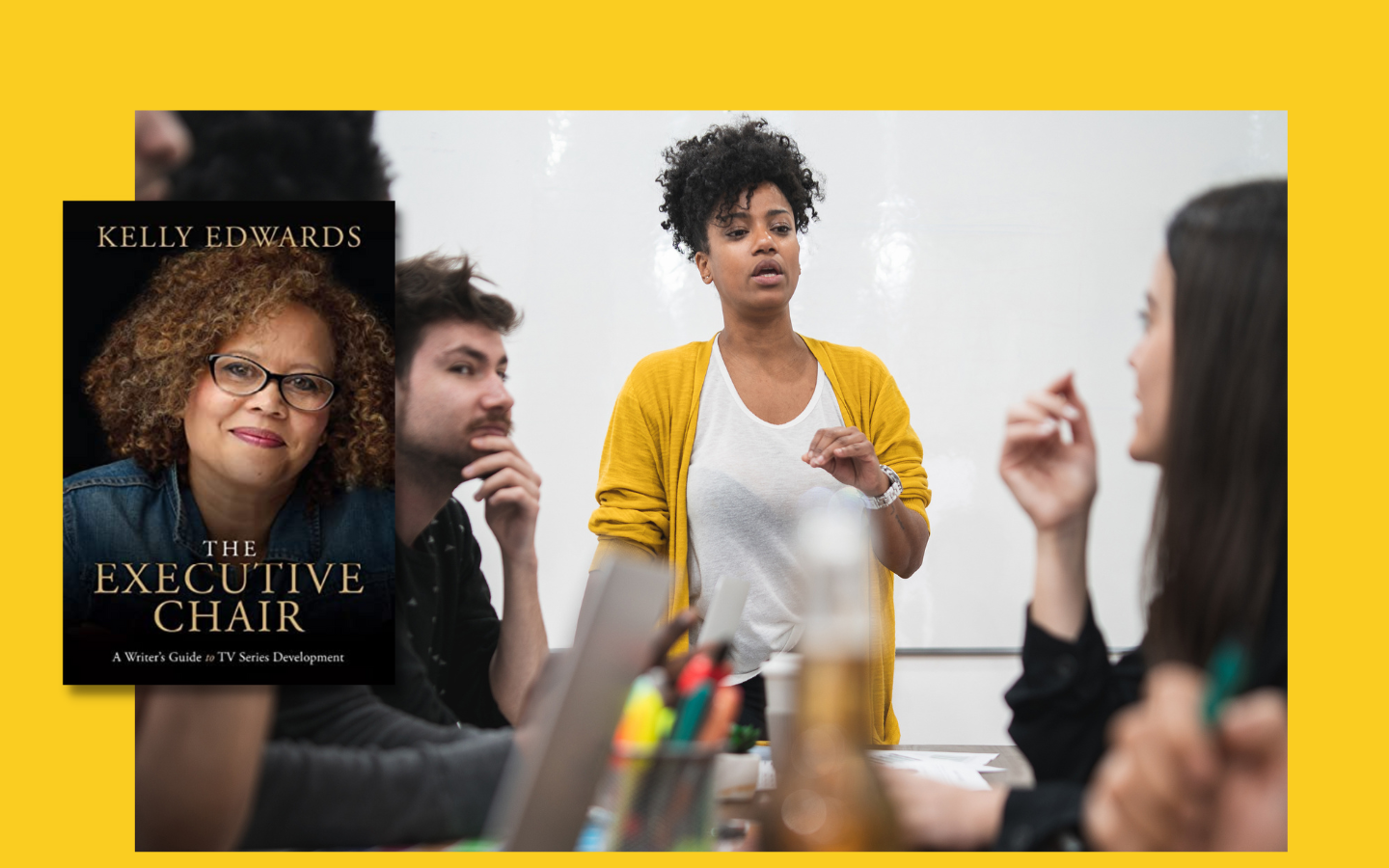 Master Classes are in-depth, interactive learning experiences focused on craft and career-building and led by renowned industry experts. Topics include fiction and documentary filmmaking, TV writing and production, and navigating and succeeding in the entertainment industry.
Ready to jumpstart your TV writing career? Former HBO Executive turned TV writer Kelly Edwards walks us through some of the highlights of her new book, The Executive Chair, A Writer's Guide to TV Series Development. Edwards will give specific tactics for building a bulletproof portfolio of work, taking a great meeting, and stress-free networking to get you off the sidelines and into the action. In this live and interactive three-hour master class, you will have the opportunity to ask questions about working in a Writers' Room, interpreting notes, and how to approach different types of meetings. Whether you are new to writing for TV or currently pitching a show, Edwards' knowledge of the studio and the room will be incredibly insightful.
Topics covered include:
00:00 - 05:00: Welcome and introduction from Sundance Collab
5:00 - 8:45: Introduction from Kelly and overview of her background
8:45 - 14:45: Creating Your Mission Statement
14:45 - 17:27: Picking a Lane
17:27 - 26:35: Your Portfolio
26:35 - 38:12: Q&A
38:12 - 44:28: Why the Mission Statement is so important
44:28 - 57:15 : Q&A
57:07 - 58:53: Playing well in the sandbox
58:53 - 1:03:18: The role of the showrunner
1:03:18 - 1:08:28: Room etiquette
1:08:28 - 1:12:40: Levels
1:12:40 - 1:19:12 Taking Notes
1:19:12 - 1:23:55 How to decline notes gracefully
1:24:55 - 1:33:05: 7 steps to taking a great meeting
1:33:05 - 1:35:33: Kelly's mission statement
1:35:33 - 1:46:05: Crafting Your Personal Narrative
1:46:05 - 2:01:30: Q&A
2:01:30 - 2:11:06: Networking Tips
2:11-2:13:43: What Networking Looks like in 2022
2:13:43-2:21:42: Following Up
2:21:42 - 2:45:25: Q&A
2:45:25- 2:47:30 Final Announcements
Recommend Resources can be downloaded here.
Past classes have included Academy Award-winning director Roger Ross Williams on Documentary Storytelling, Finding Dory's Victoria Strouse on Comedy Writing, Emmy-nominated director Lesli Linka Glatter on Blocking a Scene, The Walking Dead's Glen Mazzara on TV Writing, and more.
If you have a disability and require accommodation in order to fully participate in this event, please complete this form, contact us at (435) 776-7790 or email us at accessibility@sundance.org to discuss your specific needs. Every effort will be made to accommodate advance requests; requests made within 5 days of the event may not be guaranteed.
Kelly Edwards

Instructor
Former executive and current producer, tv writer, and book author Kelly Edwards has developed shows like Living Single, Girlfriends, The Parkers, Clueless, Two Guys and a Girl, as well as a tv drama series, a Hallmark movie, and award-winning shorts for HBO. For seven years, she served as the head of Talent Development for HBO, launching the careers of emerging artists before herself becoming a Sundance Episodic Lab fellow, releasing her Amazon bestselling book The Executive Chair: A Writer's Guide To TV Series Development, and staffing on Our Kind of People. Edwards holds a B.A. in Theater from Vassar and an MFA in Writing for TV and Film from Emerson College. She has been a member of the Annenberg Inclusion Board, the ATAS Diversity Committee, the United Negro College Fund Leadership Council, and a NALIP trustee. She has also served as President of her non-profit, Colour Entertainment, which has provided mentorship and leadership opportunities to creative executives for over twenty years.
more...