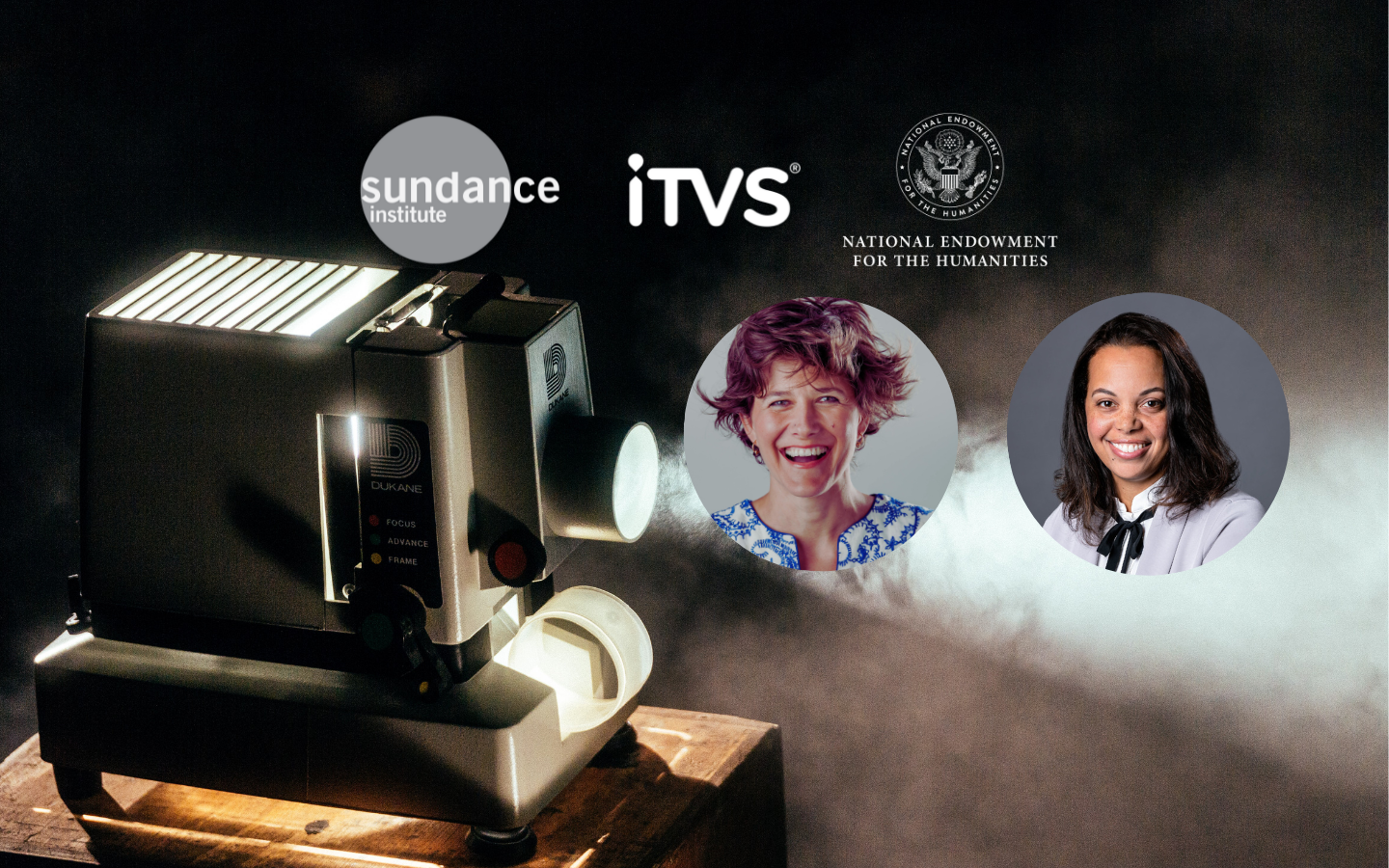 Sundance Insider Sessions provide behind-the-scenes information and guidance on our Labs, grants and festivals. Sundance Institute staff will be on-hand to answer frequently asked questions and help guide you through discovering and applying to the many programs and funds that the Institute offers.
For this Insider Session, join Sundance Institute Granting Director Hajnal Molnar-Szakacs and Keri Archer Brown of ITVS to learn more about their newly launched granting opportunities for media professionals whose livelihoods have been affected by COVID, funded by the National Endowment for the Humanities through their American Rescue Plan: Humanities Grantmaking (#SHARP) program.

All Sundance Collab online events are recorded and will be available for all registrants after the live event. Please allow up to 24 hours after the live event for the recording to be posted.
If you have a disability and require accommodation in order to fully participate in this event, please complete this form, contact us at (435) 776-7900 or email us at accessibility@sundance.org to discuss your specific needs. Every effort will be made to accommodate advance requests; requests made within 5 days of the event may not be guaranteed.
---
ABOUT

Sundance Institute's Granting Program is a new program that focuses on the development of a comprehensive funding strategy across the Institute and, in collaboration with our artist programs, administers nearly $4M in yearly grants. Guided by values of equity and transparency, we work to ensure alignment and consistency across all of Sundance Institute's granting programs ensuring that funding holds true to its values and that our artists are at the forefront. Institute Granting also engages with colleagues and artists working across form to understand the constantly shifting dynamics in the field and to develop new models for granting.
The Sundance Institute | Humanities Sustainability Fellowship will provide 20 direct, unrestricted stipends to supplement the income of U.S.-based underemployed nonfiction mediamakers whose work and livelihood have been grossly affected by the pandemic. Selected mediamakers working on humanities-focused projects will receive monthly stipends of $5,000 per month over the course of 12 months. Grantees will be paired with paid humanities advisors through the granting term (April 2022–March 2023), who will provide dedicated mentorship, project advice, and other tailored nonfinancial support.
We hope that by providing mediamakers with monthly stipends, we will alleviate the financial burden the pandemic has had on the creative mind leading the field in recovery from the impacts of COVID-19, and by pairing artists with humanities advisors, we will help foster community and collaboration between humanities practitioners and mediamakers. Applicants from underrepresented communities in the humanities are greatly encouraged and will be prioritized.
This fellowship is part of the American Rescue Plan: Humanities Grantmaking (#SHARP) program, an emergency relief program intended to fund grantmaking programs that assist organizations and individuals working in the humanities who have been adversely affected by the coronavirus pandemic and require support to restore and sustain their core activities.
ITVS brings independently-produced, high-quality public media documentary programs to local, national, and international audiences. The independent producers who create ITVS programs take creative risks, tackle complex issues, and express points of view seldom explored in the mass media. ITVS programs enrich the cultural landscape with the voices and visions of underrepresented communities, and reflect the interests and concerns of a diverse society.
The ITVS Humanities Documentary Development Fellowship, supported by the NEH Sustaining the Humanities through the American Rescue Plan (#SHARP) funding, will help pandemic-affected independent documentary filmmakers develop high-potential projects that increase the diversity, urgency, and relevance of the nation's humanities-centered documentary pipeline. Support will be awarded in the form of 12-month stipends to a diverse cohort of independent documentary filmmakers at all stages of their careers, as well as advisors working in the humanities who will provide input and counsel to strengthen filmmaking humanities practices.
Over a 12-month period spanning 2022 and 2023, this fellowship and the dedicated coaching that comes with it will allow funded documentary makers more time and energy to develop early concepts into high-quality humanities projects. Each fellow will be supported by advisors drawn from relevant fields in the humanities, along with the support of ITVS staff. Advisors will include thought leaders, as well as experts in archival research and third-party rights clearance, with the goal of strengthening the humanities scholarship and quality of the content. Filmmakers will develop a concept and nurture it through the early phases of research and development with the input and expertise from humanities scholars, positioning a project to compete for development and production funding with a full treatment, advisors, and a plan for production, distribution, and engagement.
Funding for both opportunities is provided by the National Endowment for the Humanities. Any views, findings, conclusions, or recommendations expressed in this online event, do not necessarily represent those of the National Endowment for the Humanities.
APPLICATION DATES
Sundance: opens October 15th, closes December 1st
ITVS: opens October 15th, closes December 1st
To apply visit:
Sundance: https://apply.sundance.org/prog/2022_sundance_institute_humanities_sustainability_fellowship/
ITVS: https://itvs.org/funding/itvs-humanities-documentary-development-fellowship
Resources:

Download the presentation deck for the Sundance Institute | Humanities Sustainability Fellowship
Download the presentation deck for the ITVS Humanities Documentary Development Fellowship
Keri Archer Brown

Panelist
Keri Archer Brown oversees the ITVS Open Call co-production funding initiative, informs strategy and implementation for the ITVS Diversity Development Fund, maintains a portfolio of development projects, and identifies projects and talent for potential ITVS support and co-production. Keri brings to ITVS deep production, development, and management experience as both a line producer and an executive. She has worked in both capacities at ITV America/Sirens Media as well as at Discovery Studios for Discovery Communications' networks such as Discovery Channel, Investigation Discovery, Animal Planet, TLC and Velocity. Complementing her background in content development and production, she also has roots in public relations and marketing, having led award-winning campaigns for AmeriCorps' City Year/MetroTeenAIDS partnership, and served clients such as the NAACP, National Urban League and Freddie Mac.
more...
Hajnal Molnar-Szakacs

Panelist
Los Angeles, CA, USA
Hajnal Molnar-Szakacs is the Director of Institute Granting at the Sundance Institute where she heads up development of a comprehensive funding strategy across the Institute and oversees nearly $4M in yearly grants. Hajnal serves as industry advisor for international film festivals, pitch forums and funds and is an active industry panelist and lecturer.
more...