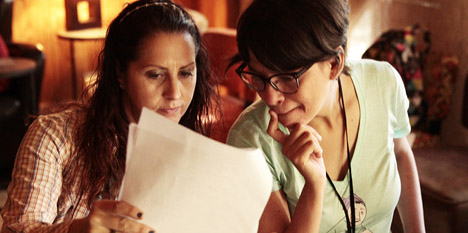 Film Producing: Core Elements
I took away valuable information regarding strategies that'll help my current and future projects go far, while also finding a new and deeper love for my project!
—Donovan S., Atlanta, GA, USA

---
Sundance Collab offers a robust collection of online courses in the Sundance spirit of amplifying your independent voice as a storyteller. Join our global community to hone your craft, network with other creators, and develop career strategies to help you navigate the film and television industry.
Learn the fundamental concepts of creative producing for independent fiction films—from development to financing to budgeting and more—with accomplished producers as your guides. In this introductory, live online course, you will become familiar with the basic tools and techniques used by producers to manage projects from development through distribution and you will create pitch materials to communicate your project's vision to funders and key collaborators.
In interactive class sessions, the instructor and advisors will define key producing terms, demonstrate contracts, budgets, and other materials used in film production, and lead you in interactive exercises group discussions. Designated homework, reviewed by your course advisor, is designed to help you build the pieces of your final pitch materials and deepen your understanding of fundamental producing concepts. The course concludes with a one-on-one mentoring session with your advisor focused on your project.
By the end of the course, you will:
understand your role in creative development and identify your core producing philosophy.
learn how to assemble a strong team and key crew.
practice verbal pitches of your project.
understand the process of optioning material and hiring and collaborating with screenwriters.
learn industry standard deal terms and the fundamentals of deal negotiation.
identify financing available to independent filmmakers and begin to develop your financing strategy.
learn how to break down a scene and schedule your days on set.
identify key steps of the marketing and distribution process.
consider festival and distribution options for your project.
This course is ideal for:
first-time feature producers who would like to understand the core concepts of creative producing and how to move their project forward.
producers who have made a short film(s), but are moving toward features and looking for a more formal educational environment to enhance their skills, toolkit, and creative community to develop confidence.
non-fiction filmmakers looking to transition into producing narrative film.
Course enrollment is approximately 50 participants per session, with a participant-to-advisor ratio of 12-to-1. Please come prepared with a short or feature film script that you plan to produce.
Space is limited. Applications for this course are considered as they are received and applicants are accepted on a rolling basis until the course is full or the deadline has passed, whichever comes first.
Sundance Collab provides accommodations and support services to participants with disabilities. Accommodations and services are designed to meet the needs of each participant. Please email us at accessibility@sundance.org to arrange for services.

This course is a part of the Sundance Collab Film Producing Track which includes the following courses:
Film Producing: Core Elements

You are currently viewing this item's details.