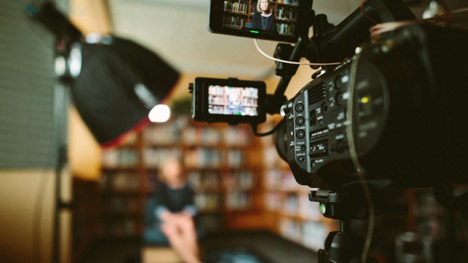 Documentary Filmmaking: Developing Your Story
Registration is now closed for this session.
Jennifer Maytorena Taylor
Course applications are now closed. APPLICATION DEADLINE WAS: Thursday, September 9 at 2pm PT.
Acceptances start after the deadline, and occur on a rolling basis.

Learn the steps for developing a feature documentary--from conception and prep through production--with accomplished documentary filmmakers as your guides. In this live, online course, you will develop a compelling proposal for potential funders of your project.
In class sessions, you will analyze clips from multiple documentary films, complete interactive exercises, discuss core concepts, and hear from a panel of documentary funders who will share their insights and answer your questions. Designated homework, reviewed by your course advisor, is designed to move your project idea through to a polished draft of a funding proposal. The course concludes with a one-on-one mentoring session with your advisor focused on your project.
By the end of the course, you will:
review a wide variety of formal approaches to documentary.
articulate the difference between your topic/issue and your story. identify ethical issues in documentary filmmaking.
discover ways to access and cast your characters.
review interview techniques and best practices.
learn techniques for achieving your aesthetic goals.
understand basic considerations of production including assembling your team and gear and anticipating potential roadblocks in the field.
understand how to organize and prepare your material for post-production.
get an overview of strategies for outreach and engagement campaigns.
This course is ideal for:
storytellers with an idea for a feature-length documentary, looking for an educational setting and guidance from experienced filmmakers and the support of a community.
documentary filmmakers moving from short-form to their first feature-length project.
Course enrollment is approximately 50 participants per session, with a participant to advisor ratio of 12-to-1. To apply, you must be prepared to work with a documentary project you plan to produce and/or direct.
"The feedback on my proposal was really helpful in forcing me to think more deeply about my idea. I'm walking away with a much clearer vision and more confidence than when I started. I also loved hearing the insights of a diverse panel of advisors, as opposed to just one, as each one had a unique perspective on the industry and making documentaries. I learned so much from every single one of them."

- Vanessa J., Washington, DC, USA
COURSE DETAILS

The course will be held live in our virtual classroom. All sessions are recorded for registered participants who are unable to attend live. If you have any questions about the course, please email collab_courses@sundance.org.
DURATION: Eight weeks, September 30 - November 21
SCHEDULE: Thursday, 10am - 12pm PT

Extended first class session: Thursday, September 30: 10am - 12:30pm
Extended last class session: Thursday, November 11 : 10am - 12:30pm
One-on-one mentoring sessions are held between Nov 15 - Nov 21
Sundance Collab provides accommodations and support services to participants with disabilities. Accommodations and services are designed to meet the needs of each participant. Please email us at accessibility@sundance.org to arrange for services.