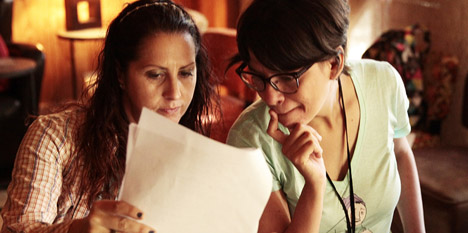 Film Producing: Core Elements
Registration is now closed for this session.
Learn the hands-on tools of creative producing for independent fiction films – from development to financing to budgeting and more – with an accomplished producer as your guide. Participants should come prepared with a project that they plan to produce. This eight-week live online course will cover pitching and development, financing, scheduling, and festival strategy and distribution. Sessions include presentations, discussion, and interactive exercises. The course concludes with a one-on-one mentoring session focused on your project.
The course will be held live in our virtual classroom. All sessions are recorded for registered participants who are unable to attend live.
DURATION: Eight weeks, March 11 - May 3
SCHEDULE: Wednesdays, 10am - 12pm
Wednesday, March 18, 10am - 1pm PT - Extended second session
Wednesday, April 22, 10am - 1pm PT - Extended last session
One-on-one mentoring sessions are held between April 27 - May 3
APPLICATION DEADLINE: Monday, February 24, 2020 at 2pm PT
TO APPLY:
Click the yellow "Apply Now" button on the top right of the page.
***
We also offer a limited number of need-based scholarships for participants who would otherwise be unable to attend. To apply for a scholarship: FIRST submit your course application through the yellow button above THEN submit your scholarship application through the link below. Both the course application AND the scholarship application must be submitted before the application deadline. Applications for a scholarship without a course application will not be considered. Apply for a scholarship to this course.
Instructor
Summer Shelton was the recipient of the 2018 Independent Spirit Piaget Producer's Award. She produced "Maine" which premiered at the 2018 Tribeca Film Festival and "Keep the Change," the 2017 Tribeca Film Festival Best Narrative Feature. She was Executive Producer of "People Places Things" which premiered in US Dramatic Competition at the 2015 Sundance Film Festival. Her other films include: "People Places Things, "Little Accidents," "Goodbye to All That" and "Adult World."
more...
Advisor
Kelly Williams has produced numerous films which have premiered at the Sundance Film Festival including LIGHT FROM LIGHT, directed by Paul Harrill and starring Jim Gaffigan. Past Sundance premiere's include the 2019 Independent Spirit Award Winning SORRY TO BOTHER YOU, directed by Boots Riley and distributed by Annapurna, and THE LONG DUMB ROAD, directed by Hannah Fidell and distributed by Universal, PIT STOP, which was nominated for the 2014 Independent Spirit Awards' John Cassavetes Award, HELLION, starring Aaron Paul and Juliette Lewis distributed by IFC Films, the documentary BEAVER TRILOGY PART IV narrated by Bill Hader, and the short films HELLION, THE SEND-OFF, BLACK METAL, and DON'T BE A HERO.
more...