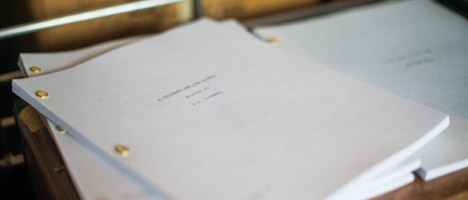 Course applications are now being accepted.
Create an outline for your TV pilot idea in eight weeks with accomplished TV writers as your guides. In this live introductory-level online course, you will take this important first step for your original pilot script and learn a set of tools to help you ask the important questions of every scene and character that will get you past "stuck" when writing future episodes.
In class sessions, you will analyze clips from half-hour and full-hour sitcoms and dramas, complete exercises related to your pilot, and discuss concepts with others in your course. Weekly homework is reviewed by your course advisor and designed to move your pilot idea through to a completed outline. The course concludes with a one-on-one mentoring session with your advisor focused on your project.
By the end of the course, you will:
find your most effective creative writing process.
develop and hone your characters.
learn how character drives plot.
be able to identify three-act structure and have it be the backbone of your pilot.
Identify A/B/C stories and break story in your own pilot.
create the tableau and tone for your pilot.
write your beat sheet.
develop your beat sheet into an outline.
understand how to receive notes and approach a rewrite.
identify a longer story arc for your series.
This course is ideal for:
Television writers with a great idea for a series or pilot who could use help with structure, world-building, character development, and deadlines
Writers who have a first draft of a pilot or series outline, but want the guidance of an experienced mentor to go back and dive deeper into their work.
Course enrollment is approximately 50 students per session, with a student to advisor ratio of 12 to one. To apply, you must be able to articulate the logline for your pilot script.
COURSE DETAILS
The course will be held live in our virtual classroom. All sessions are recorded for registered participants who are unable to attend live. If you have any questions about the course, please email collab_courses@sundance.org.
Further course details are forthcoming.
Sundance Co//ab provides accommodations and support services to participants with disabilities. Accommodations and services are designed to meet the needs of each participant. Please email us at accessibility@sundance.org to arrange for services.

TO APPLY
Click the yellow "Apply Now" button on the top right of the page.
We also offer a limited number of need-based scholarships for participants who would otherwise be unable to attend. (Scholarships are limited to one person per year (from date of issue)). Both the course application AND the scholarship application must be submitted before the application deadline. To apply for a scholarship FIRST submit your course application through the yellow button above. THEN submit your scholarship application through the link below. Submit BOTH before the application deadline has passed. Applications for a scholarship without a course application will not be considered. Apply for a scholarship to this course.