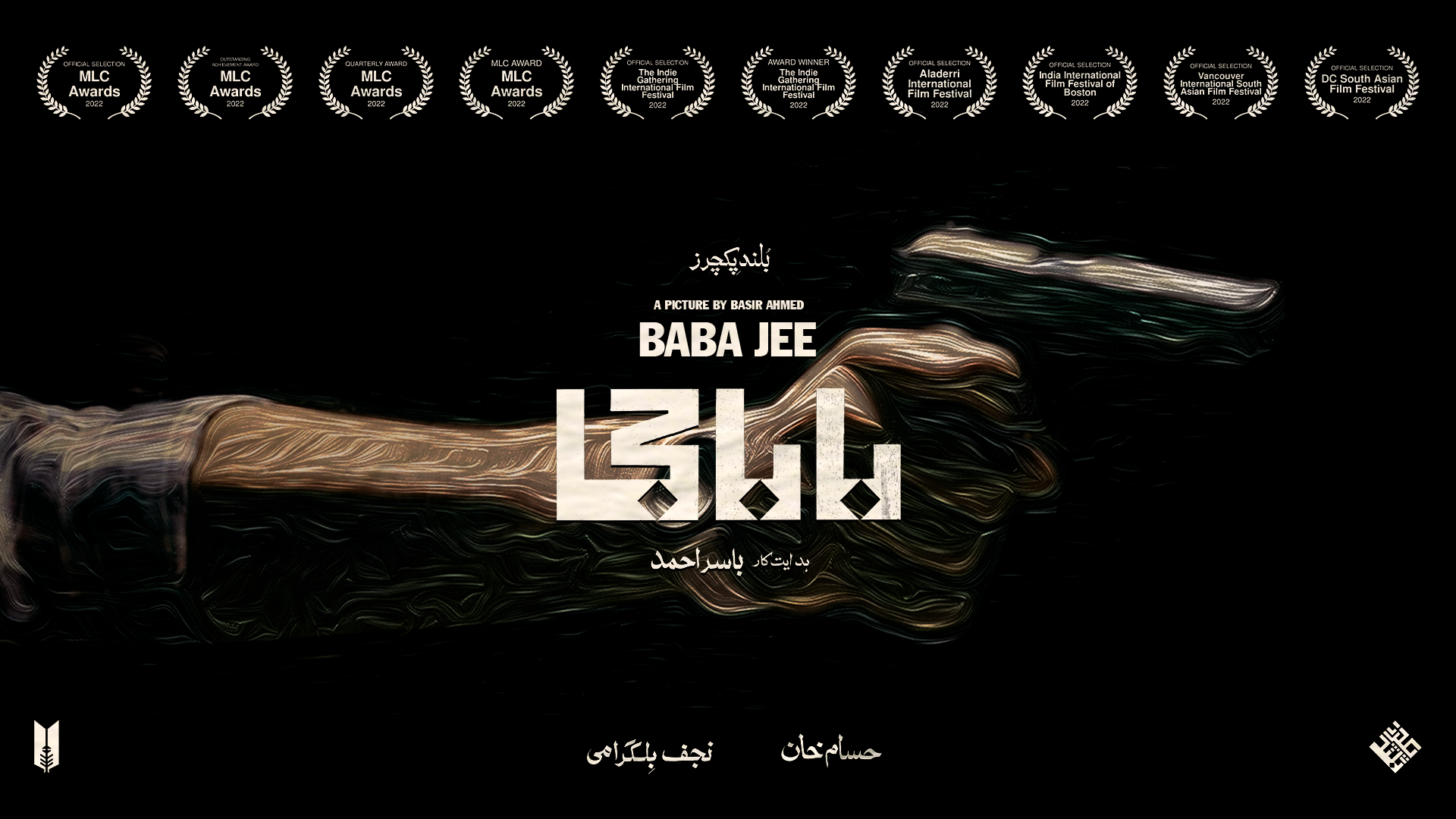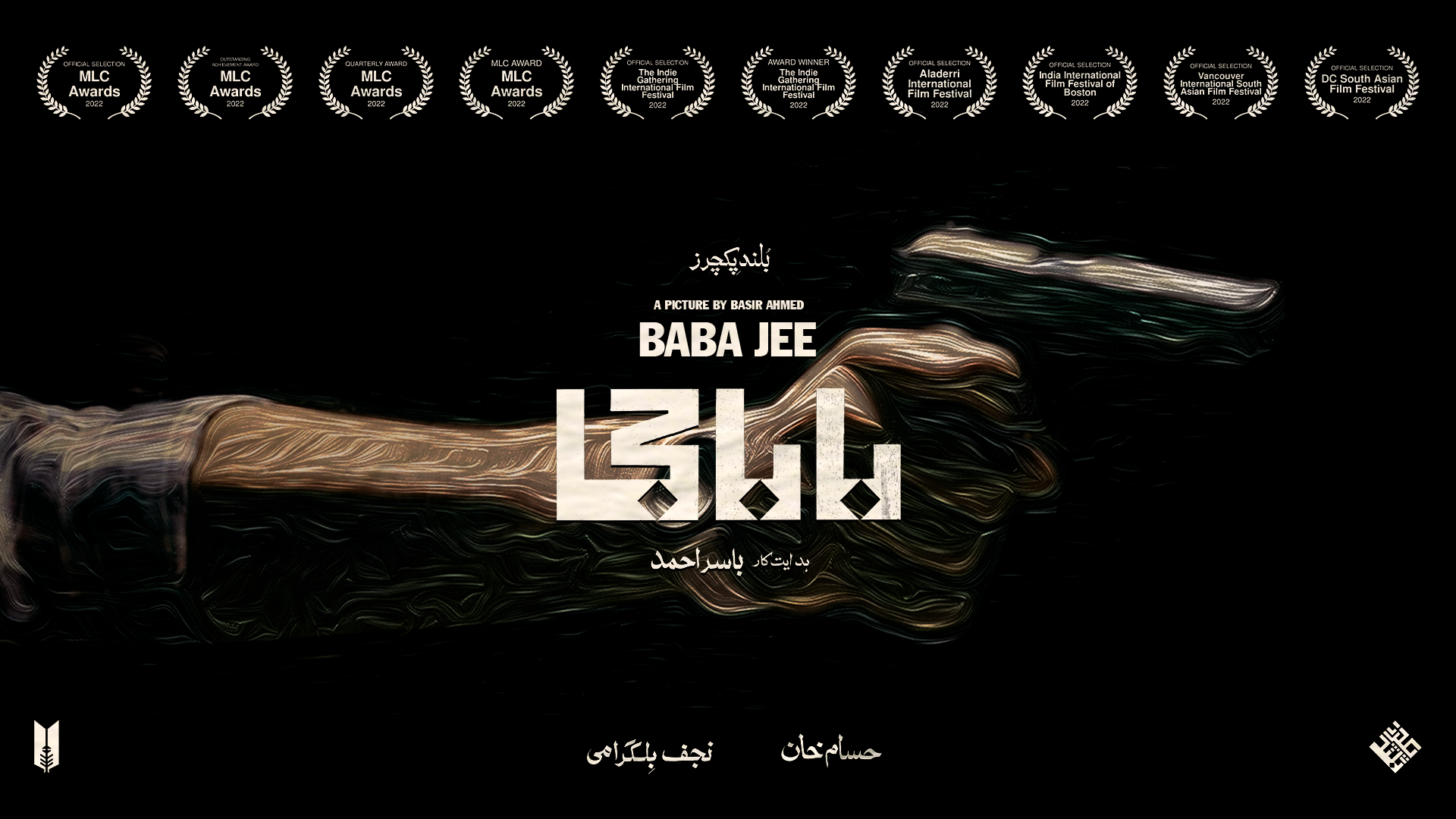 About this submission
The idea for Baba Jee came to me in 2019 while still in university. I executed a 5 minute short film for a film course assignment in fifth semester which had a similar plot to Baba Jee. Set in Karachi, the characters are heavily inspired by the 1990s gang-war in the metropolis. I grew up surrounded by terrorism and violence in the city which had a major impact on my vision as a storyteller – Baba Jee is a result of this. My interests lie in telling local stories - stories of the harsh, demanding and unforgiving streets of Karachi.
---
Creator
Basir Ahmed is a Pakistani audiovisual storyteller, award-winning filmmaker, musician and multidisciplinary artist based in Karachi. After working on multiple narrative, commercial and music video projects, Basir made his directorial debut with the student short 'Sir-e-Fehrist' in 2021 which was officially selected by Sessions at Lift-Off Global Network (UK) and consequently went on to screen at Pinewood Studios, England the same year. He graduated from Indus Valley School of Art and Architecture as a design and film student in 2022. Basir's thesis short 'Baba Jee' is currently running the international festival circuit and has garnered five awards and three nominations alongside multiple selections so far. Basir is also a professional musician and producer who can be seen touring across Pakistan with various artists such as Ali Tariq or producing for them. Basir was part of Pakistan's first ever NFT Exhibition 'Genesis 50+' in 2022 held at spatial.io where he exhibited his sonic piece 'Pr0p3rG@ndA' alongside 50 other artists from around the globe. Basir's video art film on the history of Pakistani cinema, 'Manly Men' was exhibited at Lahore Biennale Foundation's Virtual Museum - a component of British Council's PK/UK New Perspectives program - under the mentorship of Sarmad Sultan Khoosat for the program 'Manduva'. Inspired by cinematic greats such as Andrei Tarkovsky, Ingmar Bergman, Martin Scorsese, the Coen Brothers, Martin McDonagh and Darren Aronofsky, Basir's interests lie in the psychological aspects of storytelling through audiovisual mediums – constantly exploring and experimenting with the form of sound and picture. He is particularly interested in telling local stories whilst trying to understand the identity of Pakistani cinema and where he stands in it. The themes that Basir tackles in his work include but are not limited to religious guilt, violence, injustice and moral dilemmas. Influenced by music giants such as Frank Zappa, Thom Yorke, Steven Wilson and Clint Mansell, Basir has a postmodern approach with his art and craft Relying heavily on motifs and minimalist techniques as storytelling tools, Basir enjoys experimenting with organic and synthetic sounds in order to create soundscapes that underline the narrative - he enjoys emotional juxtaposition as well from time to time. Basir is a skilled multi-instrumentalist and is proficient in the piano, guitar, bass, drums and various other exotic percussive and melodic instruments all of which he taught to himself. Basir is currently in the process of writing his debut feature which takes forward the themes and characters he explored in 'Baba Jee'.
more...
Recent Submissions for 2023 Sundance Ignite x Adobe Fellowship